Sealless Pumps Meet the Pressures of Centralised Cleaning
Controllability and reducing energy costs are important objectives in many pumping applications, as is the need for pumps to be able to run dry. A good example of this is in centralised cleaning systems, such as high pressure cleaning systems in food processing applications.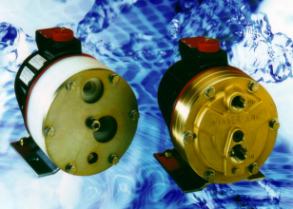 Michael Smith Engineers
Hydra-Cell seal-less pumps, available through Michael Smith Engineers, have been used to good effect in this type of application, resulting in significant savings for users.
In one example, a customer was operating a centralised, high pressure cleaning system for cleaning and preparation, running constantly on an 8 hour shift. The system has several spray nozzles throughout the plant with demand ranging from 24 lit/min up to 152 lit/min. However, pressure is required to be instant and constant to all the spray nozzles. To meet the demand the previously installed centrifugal pumps had to operate at high speed to maintain the required pressure, while the unused flow was bypassed back to the feed tanks, a highly inefficient process.
A solution was to install two Hydra-Cell G25 pumps which can operate between 0 -1000% of full speed, ensuring that the required pressure can be maintained at very low flows. The G25 pumps were supplied with a 'Unigy' drive, allowing the pump speed can be increased or decreased according to the demand, whilst maintaining optimum pressure. The result was significantly less energy required for the pump motors, around an 84% saving.
Also, as the feed tanks occasionally run dry the ability for Hydra-Cell seal-less pumps to operate safely without flow, eliminated other maintenance issues.
The Hydra-Cell pump range covers a wide range of flow rates from 0.4 lit/min up to 128 lit/min and pressures up to 172 bar, providing repeatable and accurate output. They can handle dirty liquids and liquids with particulates and because they are sealless by design, leak-free, self priming and can be run dry, they are ideal for cleaning applications.
As well as cleaning duties, Hydra-Cell pumps can handle a wide spectrum of industrial and commercial fluids across numerous applications including; food processing CIP, machine tool cooling, reverse osmosis & separation, spray drying & abrasives, paper mill applications and oil production and refining.