Safe Drinking Water Using BWT Anti-arsenic Filters
The topics food security and water are in the focus of this year's World Water Day.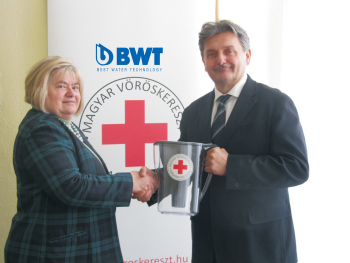 BWT supports the Hungarian Red Cross (Image: BWT)
Millions of people worldwide are drinking water contaminated by arsenic. Contaminants from arsenic compounds are among the most toxic drinking water pollutants that pose a serious threat to human health. Hungary is one European country that is severely affected. The Austrian company BWT (Best Water Technology), Europe's market leader in water technology, has developed the world's first anti-arsenic water filter able to removes toxic arsenic from tap water. In a joint venture with BWT, the Hungarian Red Cross will be distributing 500 water filters and cartridges to people living in regions where the drinking water has been polluted by arsenic. BWT is donating its products to this charitable organisation.
Arsenic: a global threat
In 1992, the WHO recommended a maximum level for arsenic in drinking water of 10 micrograms per litre. In Germany, this level has been strictly maintained in drinking water since 1996, but this has been exceeded in many European countries, and even in the USA. Countries in Central and South America are battling this problem along with Asian countries, where the level of arsenic contamination in drinking water in, for example, Bangladesh and Vietnam is particularly high.
Metalloid arsenic occurs naturally in the form of minerals and, as a metalloid, is found as a trace element in most soils, e.g. red sandstone and basalt. In certain conditions, harmful arsenic compounds can leach through rock and enter the groundwater.
A serious risk to health
Arsenic has no smell or taste, and has the dubious honour of being used in history, literature and films for poisoning enemies! And with good reason, because anyone who drinks arsenic-contaminated water over a long period of time can become ill. Skin complaints, damage to blood vessels, disorders affecting neural pathways and serious blood circulation problems can result from chronic arsenic pollution.
BWT anti-arsenic water filters provide safe drinking water
BWT's recently developed anti-arsenic water filters remove toxic arsenic from tap water to provide safe drinking water. The multistage filtration process takes place in a filter cartridge that can be used in both BWT table water filters and in other common table water filters. The anti-arsenic filter not only removes the harmful arsenic in drinking water, but also reduces the level of substances that affect the taste of the water, e.g. chlorine, and reduces organic contaminants such as herbicides and pesticides. BWT will be launching its anti-arsenic filter on the Hungarian market in March 2012. The company is using the product launch to support an awareness campaign by the Hungarian Red Cross, highlighting the dangers of arsenic-polluted drinking water, and is donating 500 anti-arsenic filters, including filter cartridges, to the organisation.
"We estimate that around 470 areas or, more precisely, 1 million people in Hungary (i.e. 10% of the population of Hungary) drink arsenic-contaminated water every day. The levels in these regions significantly exceed the level recommended by the World Health Organisation", says Mrs Baracskai, General Director of the Hungarian Red Cross. The Red Cross and BWT are using the day of action to inform as many people as possible about the health risks from arsenic, and to distribute this Austrian company's anti-arsenic table water filters to the people who need them. "We are delighted to be able to support the Red Cross in Hungary in its awareness campaign about arsenic in drinking water", says Andreas Weißenbacher, BWT Group CEO.