Saer Introduces New Horizontal Multistage Pumps
08.11.2006
Saer Elettropompe announces the extension of the horizontal multistage centrifugal pumps series OP for clean water and non-aggressive chemical liquids.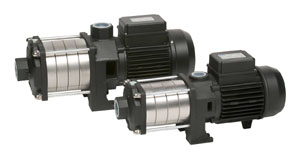 Horizontal multistage centrifugal pump OP 32-40
OP pumps are suitable for domestic use, for water automatic distribution by using small-middle pressure tanks, for gardening, irrigation, water supply from wells. Furthermore, thanks to the the high head, OP pumps can be used as pilot pump for pressurization units.
Characteristic data
16 models subdivided in two series, with power from 0,37 Kw up to 2,2 kW
Qmax: 16 m3/h (50 Hz) / 18 m3/h (60 Hz)
Hmax: 61,5 m (50 Hz) / 58 m (60 Hz)
H (Q=0): 66 m (50 Hz) / 64 m (60 Hz)
Temperature of pumped liquid: min 0°C – max 90°C
Ambient temperature: max 40°C
Max operation pressure (max allowed pressure in consideration of the sum of max. suction pressure and of the head with null flow rate): 10 bar with temperature of the pumped liquid up to 45°C, 6 bar with temperature of the

pumped liquid from 45°C up to 90°C