Rovatti Highlights the Enlargement of Borehole Pump Series
Rovatti Pompe highlights the enlargement of both AISI 316 casted stainless steel electric borehole pumps "Extreme" series and the evergreen cast iron electric borehole pumps "E" series.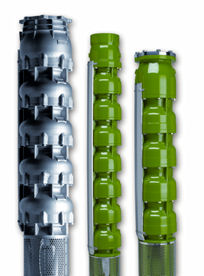 Rovatti Pompe
Up to now the "Extreme" series consisted of the 8" radial encapsulated ERCX range (with head up to 690 meters and capacity up to 85 m3/h), and the 8", 10" and 12" mixed-flow EX range with capacity up to 660 m3/h and head up to 485 meters.
All these pumps have been engineered and designed for efficient and reliable pumping of corrosive and aggressive fluids in a wide range of industrial, municipal, and residential applications. In fact, while the seamless construction and the thickness of all AISI 316 stainless steel hydraulic components ensure the highest resistance to wear and corrosion, the microcasting construction process refines the design of all surfaces in contact with the pumped liquid improving hydraulic efficiency. So, the main question is: why limit all these outstanding features to 12"? The new 14" mixed-flow 14EX range can now meet flow requirements up to 840 m3/h, head up to 195 meters, and motor power up to 300 kW.
Last, but not least, the consolidated Rovatti cast iron "E" series has been enlarged welcoming three innovative and extremely efficient product lines of 8" and 10": the new 8E-110, 8E-140, and 10E-300. As pumping systems currently account for about 20% of industrial energy consumption worldwide, the optimization of resources can lower running costs and reduce environmental impact to a significant extent. All these innovative borehole electric pumps are able to offer efficiency at the top of the market besides advanced technical solutions ensuring longlife and maximum reliability.