Pump Sector Finally Enjoys its Long-Awaited Awards
After a nineteen-month pandemic induced postponement, the 2020/21 Pump Industry Awards ceremony was finally staged at the Chesford Grange Hotel in Warwickshire on Thursday 23rd September.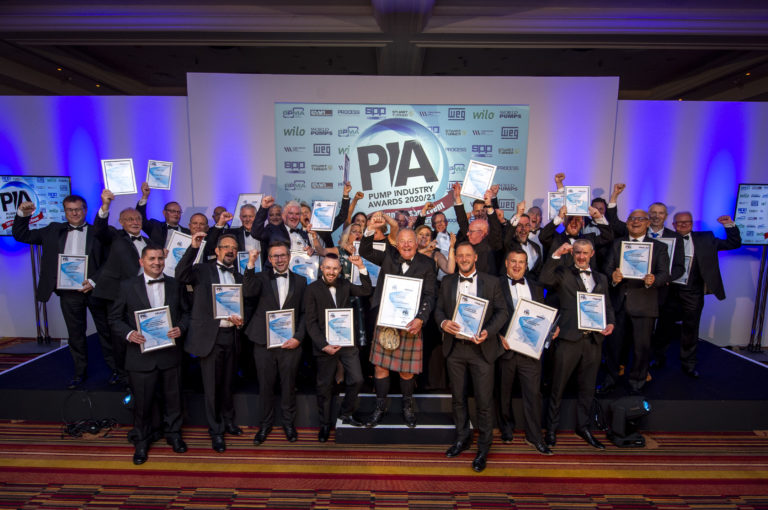 Pump Industry Awards at Chesford Grange Hotel. (Image source: BPMA)
Heralded as a great success by all those in attendance, the event not only celebrated business and professional excellence across the pump industry, but also its own 20th Anniversary. Hosted by Philippa Forrester of Tomorrow's World and Robot Wars fame, the event provided a wonderful opportunity for pump people to reunite and reconnect with friends, colleagues, and clients.  The atmosphere was one of real enjoyment and networking, after what has been an extremely challenging time for everyone.
Colin Simpson, Business Development Director at Tomlinson Hall summed up the feeling of all by saying: "After the hiatus imposed on us all by COVID it was an absolute pleasure to be out and amongst friends and colleagues at this year's awards ceremony, there was a real buzz around the whole evening. Folk were genuinely pleased to be able to socialise and once again share a wonderfully organised event." He added: "I was amazed at the quality of all this year's entries, and it is testament to the strength of the British Pump Industry that the awards are so well supported. Thanks to all involved in its hosting and delivery."
First time finalist, Andrew Simpson of Apex Pumps commented: "The Pump Industry Awards is a great event bringing the industry together and especially after the past year we've all had with the COVID19 pandemic. This year was Apex Pumps' first ever nomination and it has been a privilege to have been named as a finalist in the Manufacturer of the Year category alongside some of the best names in the business. We'll be back!"
Recognising significant achievements which took place in the 18-month period preceding December 2019, nine category winners were announced, as follows:
Product of the Year Sponsored by Process Engineering: Sulzer XJ900 Submersible Dewatering Pump
Project of the Year Sponsored by Stuart Turner: Armstrong Fluid Technology: Upgrade for National Grid
Environmental Contribution of the Year Sponsored by SPP Pumps: Wilo UK / Environment Agency: River Severn Water Management
Manufacturer of the Year Sponsored by WEG UK: Stuart Turner
Distributor of the Year Sponsored by EMIR Software: Campion Pumps
Supplier of the Year Sponsored by Wilo: ABB
Contribution to Skills & Training Sponsored by Tomlinson Hall: SPP Pumps: STEM Ambassadors in partnership with Innovation Lab
Rising Star Award Sponsored by World Pumps: Thomas Parker, TEC Electric Motors
Lifetime Contribution Sponsored by BPMA: Peter Reynolds, Grundfos Pumps
Event Director, Andrew Castle, said after the event: "Our congratulations go to all the winners for their excellent achievements, but our acknowledgment and appreciation must also go to each and every nominee and finalist. The quality of all entries was again extremely high, and the competition fierce.  It has also been an incredibly long wait for all those involved, and I so would like to thank everyone for their continued patience and understanding as we battled to get the awards ceremony staged.
Long-time supporter, Marek Lukasczcyk, European & Middle East Marketing Manager at WEG (UK) Ltd, added: "It has always been a pleasure to support the UK Pump Industry by sponsoring this prestigious event, which helps promote excellence in British engineering. The evening was a great success and was thoroughly enjoyed by all those in our group."
2022 Awards Programme
Despite the enforced delay in announcing the latest set of awards winners, time does not standstill and so we are now seeking nominations and entries for the 2022 Pump Industry Awards.  Returning to our usual Spring dateline for the gala dinner and presentation ceremony, the event will take place on Thursday 24th March, again at the Chesford Grange Hotel in Kenilworth.
The online entry forms, which seek entries for activities and achievements that took place in the two-year period up to December 2021, are now available on the website - www.pumpindustryawards.com - with the entry deadline set for Friday 7th January 2022. Please make a note of this important date, and begin considering which key developments, activities, and successes you will be putting forward for industry recognition and reward.
Throughout the pandemic, and especially through lockdown, the pump sector played a key role in ensuring our utilities, manufacturing processes and essential services were maintained, and so for the 2022 award programme, special recognition will go to those companies and individuals who have gone that extra mile to meet any additional demands and challenges brought about by Covid-19.
This additional acknowledgement will go hand in hand with the existing nine award categories, that collectively honour the full breadth of product and service offering across the pump industry.
Steve Schofield, CEO, British Pump Manufacturers Association commented: "No-one could have foreseen the disruption caused by the pandemic, and the pump sector has not been immune to its impact, however, despite the many challenges our 20th Anniversary was as good as any I can remember.  Business and professional excellence deserves to be acknowledged and celebrated and the Pump Industry Awards do just that.  As such, I would encourage all those involved in this important sector of ours to prepare and submit their entries for the fast-approaching 2022 awards programme."