Pump Development Continues
Further developments to the new range of Selwood pumps launched at the beginning of the year have been made with new, improved versions of other pumps being introduced throughout the year.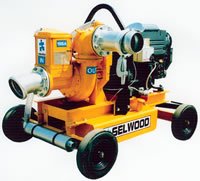 Since the initial launch a further six new versions have been produced and are now available for sale. These new pumps are the 150SA and 200SA Supersilenced pumps, a Supersilenced 150C twin prime and Supersilenced 150WP wellpointing pump as well as a site and skid 3 cylinder Deutz powered 150SA which has considerably reduced costs against the 4 cylinder version.There are also two prototypes under construction; an 80C Yanmar site pump and an 80C Supersilenced version. These pumps should be available later in the year.