Pulsafeeder PULSAblend Polymer Makedown System
Pulsafeeder introduces its PULSAblend Polymer Makedown Systems in control options of Automatic, Manual or Dry Contact. All systems feature our patent pending, proprietary 3 Step Static Blending System which provides excellent dilution without harming the polymer chains.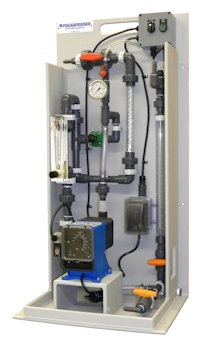 Pulsafeeder PULSAblend Polymer Makedown System (Image: Pulsafeeder)
These rugged fabricated assemblies offer turn-key simplicity and industrial grade durability. With a wide range of dilution utilizing three different water flow rates to choose from (0-5 GPM; 5-10 GPM & 10+ GPM) the patent pending, proprietary design Static Blending System is custom sized to provide outstanding activation of all types of polymers, without the sometimes damaging effects of motorized mixing devices. Five neat polymer pump flow rates ensure the right makedown for any application.
The PULSAblend Polymer Makedown Systems include an auto-fill calibration column, an adjustable flow meter and a neat polymer back pressure regulator to maintain a consistent final product. The PULSAblend Polymer Makedown System with Dry Contact Control starts the system when closed and ends the process when opened. The system will automatically run a 30 second flush cycle when the contact opens to clean the internal components, preparing it for the next demand.
The Manual and Dry Contact systems now have an option for an Incoming Water Low Flow Cutoff Switch which will disable the neat polymer injection pump should the dilution water flow drop below 1 GPM.