Professor Sir Jim McDonald to Lead Weir's Technology Advisory Board
Professor Sir Jim McDonald, one of the UK's leading engineering academics is to lead the Group's newly created Technology Advisory Board. The board, which includes highly regarded experts from a variety of disciplines, will ensure Weir continues to be at the leading edge of technology development in its chosen industries.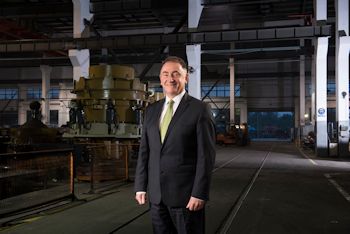 Sir Jim McDonald (Image: Weir Group / © Chris Close)
Commenting as the board held its first meeting, Weir Group Chief Executive Keith Cochrane said:
"The Weir Group was founded in 1871, at the height of the last industrial revolution, by pioneering engineers who invented new ways to make their customers more efficient. Today, the rapid pace of technology development brings significant opportunities for a global engineering Group which has innovation at its core.
Our technology board, under Sir Jim's leadership, has been specifically chosen to ensure Weir benefits from expertise from a range of backgrounds, both academic and industrial, and uses that knowledge to continue to succeed in an increasingly complex and connected world."
Professor Sir Jim McDonald added:
"I am delighted to be leading Weir's advisory board at such an exciting period of technological development and innovation. Throughout my career I have seen the benefits of different disciplines and industries working together and sharing insights.
The most successful technology and engineering companies are always looking to learn and that will be the main focus of the board's work: ensuring the best ideas, wherever they are from, are available to Weir's engineers and its customers."
Weir Group Technology Advisory Board members
Professor Sir Jim McDonald has been Principal and Vice Chancellor of the University of Strathclyde since March 2009 and has held the Rolls-Royce Chair in Electrical Power Systems since 1993. Sir Jim was appointed as a Non-Executive Director of the Weir Group PLC Board in January 2015. His other roles include Director of the UK National Physical Laboratory, Director of Scottish Power Energy Networks Holdings, Chair of the Glasgow Science Centre, and Director of the UK Offshore Renewable Energy Catapult Centre. Previously, he was a member of the Scottish Science Advisory Committee, member of the UK Trade and Investment Energy Excellence Board, Scottish Enterprise Board and Vice-President of the Institution of Engineering and Technology.
Jackie Mutschler was Senior Vice President and Head of Upstream Technology for BP PLC until 2014. Her responsibilities included leading the business' scientific and engineering disciplines including digital optimisation to improve exploration and production from both conventional and unconventional oil and gas fields.
Professor Bill Drury is currently the Royal Academy of Engineering Visiting Professor of Engineering of Innovation at the University of Bristol and Chair of the department's Industrial Advisory Board. Professor Drury is also a Visiting Professor at the University of Newcastle upon Tyne. He was formerly Executive Vice-President Technology for Control Techniques, a division of Emerson Electric.
Dr Tony Hooley is a scientist and entrepreneur who has founded several technology companies including Cambridge Mechatronics Ltd which develops innovative smart phone technologies. He completed his PhD in Radio Astronomy at the Cavendish Laboratory at the University of Cambridge.
Dr Laura James is a consultant in technology, engineering and innovation working with commercial and non-profit organisations encouraging collaboration and the use of new technologies. She has shipped diverse cutting edge products and services within startup teams, and has a PhD in Engineering from the University of Cambridge.