Primero Uses Piston Pumps From Putzmeister
The mining company Primero Mining Corp. ordered two new piston pumps from Putzmeister in 2012 for its San Dimas gold and silver mine in Tayoltita, Mexico. One of the two pumps has already been delivered to the job site, the second one is on its way to Mexico.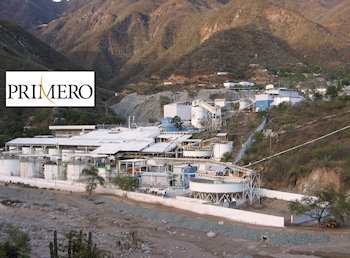 Mexican gold and silver mine in Tayoltita receives two new piston pumps from Aichtal (Image: Primero/Putzmeister)
With the "Made in Germany" technology Primero is increasing the capacity and efficiency of the mining operations considerably and is replacing four older piston membrane pumps with one new machine. The biggest advantages of the new pumps are the significant lower operational and maintenance costs.
The gold and silver mine of San Dimas is one of the largest precious metal deposits in Mexico and is located in an extensive mining area. In this mountainous region the proportion of gold in the mined ore is particularly high. The Canadian company Primero Mining Corp., owner of the mine in Tayoltita, is expanding its capacities significantly and is planning a throughput of 2,500 tons of conveyed material per day until 2014. This corresponds to an increase of over 20 percent. Therefore Primero is using two new Putzmeister piston pumps, type HSP 25100. These pumps will be used to pump mine dumps, (known worldwide as tailings) to a deposit. At the San Dimas Mine these tailings are fine-grain residues which occur during the extraction of gold and are available in the form of sludge which has to be transported over a distance of 2,500 meters to a tailing pond. The tailings in San Dimas have a dry solid content of roughly 64 percent and require special pump technology.
Three years ago Primero changed from piston membrane pumps to an oil-hydraulic high-pressure piston pump which was manufactured by Putzmeister Solid Pumps GmbH in Aichtal. Based on the customer s high satisfaction with the first HSP 25100 pump system, Primero ordered another two pumps in 2012.
Customised technology for Mexico s mining industry
Usually piston pump systems consist of three main units: the hydraulic driven piston pump, the hydraulic power pack and the control cabinet including an operating panel. These pump systems are designed for pumping material with high dry solid content and low water content. The HSP pump system has valves which consist of valve discs and hydraulic valve seats. Maximum conveying pressures up to 150 bar can be achieved through precise sealing of the valves. In San Dimas material is pumped at 60 bar. At this application the HSP 25100 achieves a delivery rate of up to 100 m³/h (Higher output rates are also available at Putzmeister Solid Pumps GmbH).
Over 80 percent saving on spare and wear parts Putzmeister
Putzmeister piston pumps enable quick and safe replacement of spare and wear parts. The servicefriendly replacement of the valves and the long lifecycles of all wear parts based on the design are special features of Putzmeister. Valve discs and valve seats are made from extremely high wearresistant steels and can be used on both sides. The valves can be easily replaced without replacing the delivery line.
The decision to change from piston membrane pumps to oil-hydraulic piston pumps has helped Primero to reduce its costs for spare and wear parts by over 80 percent. In addition to the lower operational and maintenance costs, Primero benefits from the high availability of the system.
In the last five years a noticeable trend has emerged at Putzmeister Solid Pumps GmbH: There is a growing demand for oil-hydraulic high-pressure piston pumps in Latin America. The over 50 years of experience in the area of concrete pumps has particular advantages with regard to savings in cement and water: It is always about an optimal water and solid matter ratio that should deliver a good pumpable mixture, which thickens at the right moment and achieves the necessary solidity.
Putzmeister consistently implements this knowledge in the pump technology for every application. Another prerequisite is the global service network of Putzmeister and the quick availability of spare parts. Technicians and engineers are constantly on standby to fulfill customers wishes and provide support to local representatives around the world.