Practice-Oriented Training by Renowned Pump Experts
The 5th English Pump Engineer program starts in March 2016.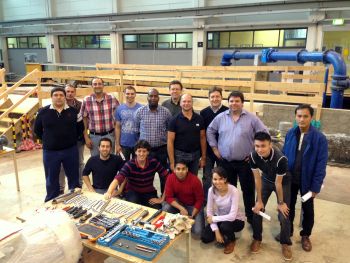 Module Pump Assembly, Graz Technical University (Image: Pump Engineer)
The Pump-Engineer is an extra-occupational distance-learning study program providing expert knowledge on the planning, operation and maintenance of pumps and pump systems. The Pump Engineer program provides knowledge on the perfect design and operation of pumps by offering theoretical basics as well as specific process- and plant-related knowledge for various industries. Internationally renowned experts from leading German, Austrian and Swiss industrial enterprises could be attracted for the development of the studying material in cooperation with professors from the Graz University of Technology, Technical University Berlin and the Erlangen University. The knowledge acquired during the 13-month study course, with only two attendance periods (two weeks each) in Austria and Germany is attested by the certificate "Pump Engineer" or "Pump Technician" awarded to graduates. The curriculum covers Basics, Pump sets, Pumps in systems/plants and Fields of applications (process industry, refineries, power plants, water, sewage, food and sterile technology, paper industry, vacuum technology). Two branch-related modules have to be chosen according to the participant's needs, interest or professional environment. The course "Certified Energy Consultant for Pumps and Pump Systems" is integrated into the program. Target group are all those persons whose jobs are related to pumps.