Pioneer Pump Holding Opens New Facility in Australia
Pioneer Pump is pleased to announce the opening of a new facility in Victoria, Australia. Pioneer Pump will manufacture, sell and service diesel and electric driven pump packages at the new 2000 square meter facility on Sunshine West in Victoria.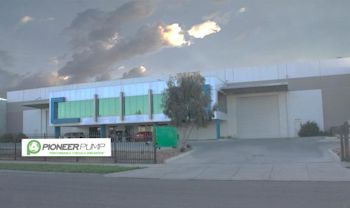 "We recognize that mining industry experts in Australia have significant influence over the dewatering and pumping needs of mines worldwide," said Paul Schlumpberger, Pioneer Pump Vice President. "Adding service and support in Australia positions us to address one of our key market segments where many of the decisions are made."
Pioneer Pump reports strong growth into the Southeast Asian mining market over the last two years. Adding the operation in Australia is a step forward in support of our global expansion strategy.
Brown Brothers Engineers, one of Australia and New Zealand's leading pump suppliers, will continue as a distributor for Pioneer Pump in New Zealand and the Pacific Rim and as a dealer in Australia. Over the last ten years, Brown Brothers has delivered first class results in establishing brand recognition and introducing Pioneer Pump in the region. Their technical expertise, and industry experience has resulted in quality pumping systems across New Zealand and Australia.
Steve Bosnar will lead the new operation as Managing Director. Vic Tannin has been named Operations Manager. Both Mr. Bosnar and Mr. Tannin have extensive experience in the pump industry. Pioneer Pump Australia will serve all of our markets with an initial emphasis on mining and dewatering.