Obituary: Dr. Wolfgang Kühborth
The KSB Group is mourning the death of Dr Wolfgang Kühborth. Having served for many years as the head of the Frankenthal-based pumps and valves Group, Dr Kühborth died on 31 January at the age of 92 following a brief but serious illness.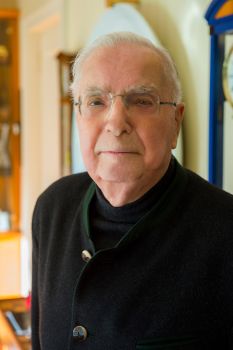 Dr. Wolfgang Kühborth (Image: KSB)
As a descendant of KSB's founding family (Klein), he shaped the course of the company's history, in particular in his capacity as Member and Chairman of the Board of Management of KSB Aktiengesellschaft and in later years as Chairman of the Supervisory Board. "Dr Wolfgang Kühborth was a charismatic entrepreneur," said the Members of the Board of Management Dr Peter Buthmann and Werner Stegmüller in respectful remembrance of the deceased. "Over a career spanning some 50 years, he greatly influenced the development of the company during the post-war period and steered the KSB Group into a global role." Dr Kühborth developed KSB from a renowned mechanical engineering company into an international market leader with sales and production companies on five continents. His active service years saw the establishment and expansion of large-scale manufacturing facilities in Asia and the Americas, as well as the acquisition of KSB's prominent French competitors Pompes Guinard and AMRI. In addition to intensifying internal training and development and founding the company's own vocational training centre, he focused on wide-ranging research and development in order to ensure KSB's continuing success.
In 1964 he waived his inheritance from the Klein family in favour of securing a sustainable future for the company. Together with his father, Dr Otto Klein-Kühborth, he transferred the assets to the non-profit KSB-Stiftung (KSB Foundation), which ‒ through Klein Pumpen GmbH ‒ holds around 80 percent of the ordinary shares in KSB AG today, providing an important anchor of stability for the group. In 1993 Dr Kühborth transferred his remaining shares in Klein Pumpen GmbH to the Kühborth-Stiftung (Kühborth Foundation). "His actions as a businessman were always governed by his sense of responsibility for the common good and towards the many thousands of employees working for the KSB Group around the world," emphasised the Board of Management. Dr Kühborth set benchmarks not only with regard to business but also culturally. He received many awards for his services to business and society, including an appointment as Officer of the French National Order of Merit (Ordre national du Mérite). Most recently he was Honorary Chairman of the KSB Supervisory Board.