New Screw Pumps Reduce Operating Costs By Up to 40 Percent
The new generation of screw pumps from Colfax Fluid Handling reduces operating costs by up to 40 percent. As complete pump sets consisting of the pump, motor, and a frequency converter, they achieve these savings without additional investment.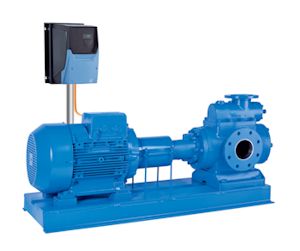 The foundation of the solution is the Variable Speed Drive (VSD), which uses 87-Hz technology. The new generation of screw pumps combines two developments to reduce operating costs. In the past, it was necessary to compromise pump size and screw pitch in order to obtain the desired capacity range, but now with VSD the required capacity is achieved with pinpoint accuracy. Even better, the system can be easily adjusted when system or operating conditions change.
A complete pump set consisting of the pump, motor, and frequency converter replaces a pump with a free shaft end. All three components are configured precisely at the factory and adjusted for optimal achievement of the desired capacity According to Manfred Schulz, Director of Distribution Sales EMEA at Allweiler: "For virtually the same price, our customers receive a complete VSD pump set that is significantly more efficient."
By optimizing configuration of the components, the negative effects of oversized pumps can be counteracted. As a result, pump operators save space and money. This makes the "VSD" generation ideally suited for replacements and retrofits. The system even has the ability to extend service life by configuring the electronics to maintain pumping parameters even when normal wear results in a smaller pump capacity.
The new, intelligent SSP set also serves as a foundation for additional simplifications. For example, expensive and high-maintenance volume-control valves can be eliminated since the VSD set selects the required capacity with precision. The resulting simplification further reduces maintenance expenses.
Each pump set complies not only with current legal regulations, but all known future requirements as well, such as EN 6003430:2009, EUP.
Picture: Instead of a conventional screw pump with an exposed shaft end, Colfax Fluid Handling will begin offering a complete VSD pump set. Variable Speed Control (VSD) permits use of pumps and motors that are ideal for the required capacity, reducing operating costs by up to 40 percent without additional investment during procurement. (Image: Allweiler GmbH)