New Range of Mink Claw Vacuum Pumps
The outstanding features of the new Mink claw vacuum pump range are optimised noise emission levels and a smaller floor area. The new range will be introduced at the Fakuma plastics processing trade fair in Friedrichshafen (Germany).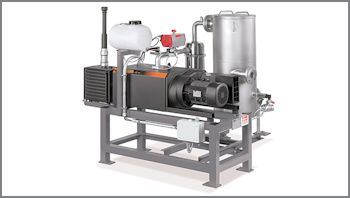 Plastex Extruder Degassing Unit with Mink Claw Vacuum Pump (Image: Busch)
For many years Mink claw vacuum pumps have been the most advanced technology available for the pneumatic conveying of granulates and additives and the degassing of extruder screw zones. They are highly reliable, require little maintenance and are extremely economical in comparison to other vacuum pump types.
The new Mink MV range represents a further development of this vacuum technology. In addition to the advantages offered by the present models, the new pumps feature reduced noise levels and more compact dimensions, allowing them to be installed in smaller spaces. Models with outputs of between 250 and 400 m³/h (50 Hz) will be presented on the Busch stand at the Fakuma trade fair. These output ranges are typically used for vacuum generation in applications such as pneumatic conveying systems for transporting plastic granules from storage silos to dryers, extruders and injection moulding machines. They are also integral to Plastex extruder degassing units and are used for thermoforming, blow moulding and the vacuum clamping of components prior to mechanical processing. The complete Mink MV range will include pumps with outputs of between 40 and 1150 m³/h. When used in conjunction with centralised vacuum systems Mink claw vacuum pumps can achieve considerably higher pumping speeds.