New Precision Engineered Flowmeter from Flux Pumps
The innovative new FMO Flowmeter is now available for immediate delivery from Flux Pumps. For medium to large capacity applications, the oval gear type positive displacement FMO is able to handle a wide range of liquids, from thin through to pasty and highly viscous.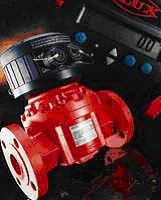 For ease of use, the FMO is easily mounted either horizontally or vertically, with no flow conditioning required. Featuring a low pressure drop, the unit also allows for economical pump selection or gravity flow applications.
The FMO flowmeter meets the requirements of all relevant EU Directives. It is CE Marked and also meets the specifications of IP54 and NEMA13. All displays and controls are also rated intrinsically safe, for applications in potentially explosive atmospheres.
The FMO benefits from the very latest precision engineering technology from Flux. Every unit's accuracy is verified by a factory calibration check prior to shipping.
The innovative design of the FMO minimises the number of wearable and replaceable parts and results in a considerably extended working life for the unit. Once installed the FMO also ensures trouble-free, on-site servicing without the need to remove the unit from in-line.