New Heating Pump Inova NH II from Speck Pumpen
Just in time for the coming heating season, the German company Speck Pumpen is launching a new series of heating pumps to the market. The Inova NH II, the successor to the Inova NH, offers added value with a new design and additional functions.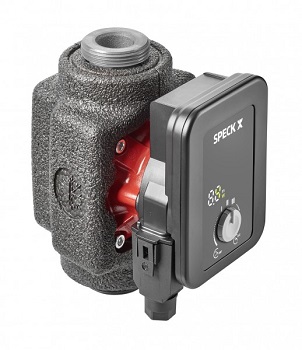 The new heating pump Inova NH II (Image source: Speck Pumpen)
Three operating modes are now available for the different applications:
Variable differential pressure
The pump reduces the delivery head by half with decreasing volume flow in the pipe network, e.g. for the operation of conventional radiators.
Constant differential pressure
The control keeps the set delivery head constant regardless of the volume flow, e.g. for the operation of underfloor heating systems.
New: Fixed speed stage
The pump runs unregulated in one of three preset fixed speed stages, e.g. as a storage charging pump.
The new series covers a performance range up to a maximum flow rate of 5 m³/h and up to a maximum head of 8 mWs. The efficiency-increasing thermal insulation shell is already included in the delivery.
The Inova NH II will be available from autumn 2019.