New European Headquarters for Yaskawa
Yaskawa is building a new corporate headquarters for Europe in the Hattersheim Industrial Park close to Frankfurt. The globally active technology supplier in the field of robotics, drives, motion and controls technology, and regenerative energy solutions is investing around 23 million euros in an office building and parking garage at the new site. The inauguration is planned for the end of 2022.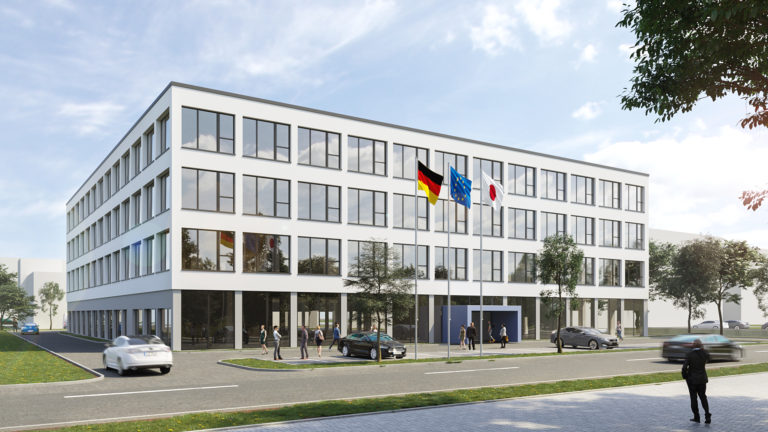 Yaskawa is building a new corporate headquarters for Europe in Hattersheim near Frankfurt/Main. The inauguration is planned for the end of 2022. (Image source: Yaskawa)
Since 2008, Yaskawa has been located with its European headquarters in a rented building in Eschborn.
The groundbreaking ceremony for the new building in the Hattersheim Industrial Park, Philipp-Reis-Strasse, is scheduled for the end of Q1 2021. A 4-story office building with 3,450 m² of office space for approx. 220 employees, the European training center with 1,150 m² and an 206 m² innovation center with showroom will be built on the 8,316 m² site. In addition to 17 outdoor parking spaces for guests, the site also offers a parking garage with 177 spaces for employees, several of which are equipped with charging stations for electric vehicles.
The new building, planned and realized by the partners Feldmann Architekten and Weimer Bau, is designed as an energy-efficient house according to the German KfW 55 standard. A wide variety of measures are used to achieve this. The equipment includes a photovoltaic system, particularly energy-efficient air-conditioning technology for the offices and energy-saving LED lights. Heat is generated by an air-water heat pump.
In the representative innovation center with integrated showroom, customers, suppliers and visitors from politics, universities and schools can expect the latest technologies and innovations from the field of Industry 4.0 and 5G. In the training center, highly qualified trainers teach participants how to use and program Motoman robots and Yaskawa drive and control technology in hands-on workshops.
"As a future-oriented company, we are constantly working to further improve the infrastructure and also the facilities for our employees. Thus, with the new building, we are creating offices and spaces with an innovative, appealing and modern working environment in which employees can enjoy and be motivated to work," explains Bruno Schnekenburger, President & CEO of Yaskawa EMEA. "With the prestigious and sustainable building concept and the use of high-quality building components, we are creating areas in which professional training with state-of-the-art technology and more comfort will become a real experience".
According to Yaskawa, the decisive factors for the new location in Hattersheim included the excellent infrastructure and the connection to Frankfurt Airport.
"We are pleased that we, as the city of Hattersheim, have been able to attract an innovative company in Yaskawa," said Mayor Klaus Schindling. "On the way to becoming a Digital City, we have not limited ourselves to housing data centers. With Yaskawa, we can welcome another company active in the field of future technologies to Hattersheim, which is a leader in the field of mechatronics and robotics solutions for companies, but also stands for the promotion of products with sustainable energy generation and responsible energy consumption."