New DEPA E4 – Compound Diaphragm
08.10.2008
Crane ChemPharma Flow Solutions, based in Düsseldorf, and a part of Crane Co., is accustomed to being at the cutting edge of state-of-the-art technology, and its latest invention, the DEPA E4 Compound Diaphragm, continues that tradition.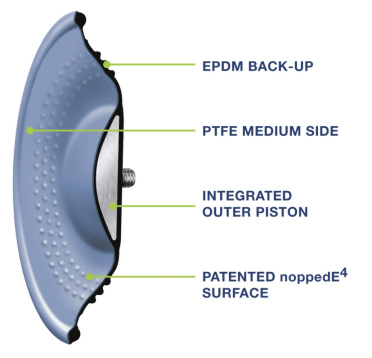 DEPA E4 - Compound Diaphragm
Industry insiders hail this innovative design as one enabling unprecedented advancements in the Air Operated Diaphragm Pump Industry - it has already earned the label of "New generation diaphragm".
A special "noppedE4" surface, which refers to a uniform sequence of small mounds radiating in a band located medially within the diaphragm, imparts a level of flexibility to the DEPA E4 that is second to none, even when compared to standard rubber diaphragms. Available in four sizes, ranging from ½" – 2", the diaphragm combines versatility and functionality.
It is constructed as a single unit from a combination of PTFE and EDPM, coming into contact with liquid and air respectively. The outer piston, usually a separate component in standard pumps, is entirely encapsulated.
DEPA E4 offers four primary benefits for end-users: increased life span, improved safety, increased efficiency, and an ultra clean working mechanism.
The increased flexibility enables greater flow rates combined with reduced air consumption, resulting in energy savings.
The flexible nature of the DEPA E4 Compound diaphragm gives it a longer life-span while by that very fact increases the length of replacement intervals (reducing replacement frequency), which generates savings in both operation and maintenance, while decreasing down-time. The diaphragm can be installed and replaced easily due to its single-unit construction.
The laminated design of the new DEPA E4 Compound Diaphragm ensures the diaphragm surface is impermeable. This facilitates greater safety and an ultra-clean working mechanism, which prevents leaks/deposits and greatly limits areas for bacteria build-up.
The high chemical resistance is maintained right through the entire pH range (0-14) against most media.
EDPM is electrically conductive, which makes it suitable for use in ATEX-conforming pumps, and the diaphragm is approved for use in Zone 0 when used in conjunction with pumps made of stainless steel casting.
The new DEPA E4 Compound Diaphragm is compliant with CE markings.
About Crane ChemPharma Flow Solutions
CRANE ChemPharma Flow Solutions designs and manufactures a variety of high performance products including: sleeved plug valves, lined valves, high performance butterfly valves, aseptic and industrial diaphragm valves, actuation, lined pipe, fittings and hoses, and air operated diaphragm and peristaltic pumps. Our trusted brands Saunders, XOMOX, DEPA, ELRO, Revo, and Resistoflex offer our customers complete and innovative fluid handling solutions designed for the most demanding corrosive, erosive, and high purity applications within the chemical, biotechnology and pharmaceutical industries.
About Crane
Crane Co. is a diversified global manufacturer of engineered industrial products, traded on the New York Stock Exchange (NYSE: CR). One of it's segments Crane Fluid Handling provides highly engineered products for fluid handling applications worldwide.