New Bulletin on Calibrated Balance Valves
A new bulletin that describes the design and operating specifications of the Circuit Setter Plus® Calibrated Balance Valves has been published by Bell & Gossett®.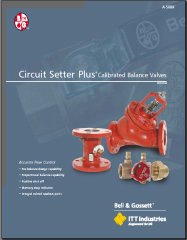 Bell & Gossett
The literature describes the advantages of the system balance method and illustrates how the Circuit Setter Plus assures optimum and accurate system flow with minimum operating horsepower.
The bulletin (A-508K) presents detailed valve performance figures and explains typical applications of the valves in balancing and metering flow levels and controlling shut-off. Specific benefits and components of the Circuit Setter Plus highlighted in the literature include:
Velocity Head Recovery
Circuit Setter Balance Valve Calculator
Variable Orifice Flow Meter
Proportional Balance
Positive Shut-Off
Memory Stop
Readout Valves
Drain Connection
The bulletin also includes product diagrams that illustrate the dimensions of the NPT and Sweat Models, as well as the Flanged and Grooved Models. In addition, a detailed description of valve construction is given for each valve design.
Bell & Gossett, a unit of ITT Industries, is a leading manufacturer of centrifugal pumps, circulators, hydronic specialties, heat exchangers, and packaged systems for variable and constant speed pumping, heat transfer and pressure boosting.