New Bulletin for Valve Installation Kits
A new bulletin is available for Bell & Gossett's Valve Installation Kits, which help improve HVAC system operating performance, and save time for engineers and installers in the field.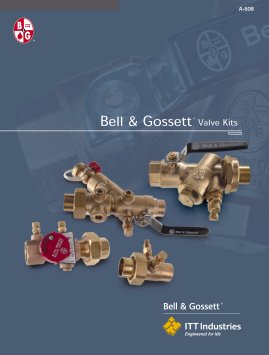 The bulletin (A-608) details the features of Bell & Gossett's (16) standard Valve Kits, which provide hundreds of installation combinations and options for flexible braided metal hoses and pipe run out sizes from 1/2" to 2". The kits also allow for a variety of packaging and tagging options. Valves and accessories highlighted in the literature include:
Model AC Circuit Sentry ™ Automatic Flow Limiting, Commissioning and Shut Off Valve Model UBY Combination Wye Strainer and Shut Off Valve Model UVB Ball Shut Off Valve Model MC Circuit Setter Plus® Calibrated Balance, Commissioning and Shut Off Valve Model UA Union Accessory
The bulletin also includes a diagram, which illustrates system functionality and integrated ports for accessory devices such as pressure and temperature measurement ports, air vents, or drain valves. The diagram outlines:
Coil Terminal Connection Size
3-Way Temperature Control Valve Connection Size Calibrated Balance Union Accessory with One and Two Pressure / Temperature Ports Automatic Flow Limiting Commissioning and Shut Off Valve
Bell & Gossett, a unit of ITT Industries, is a leading manufacturer of centrifugal pumps, circulators, hydronic specialties, heat exchangers, and packaged systems for variable and constant speed pumping, heat transfer and pressure boosting.