Inauguration in Australia
Endress+Hauser has inaugurated a new sales building in Sydney, Australia. This underlines the Group's commitment in the region to improve support for customers and to grow market presence.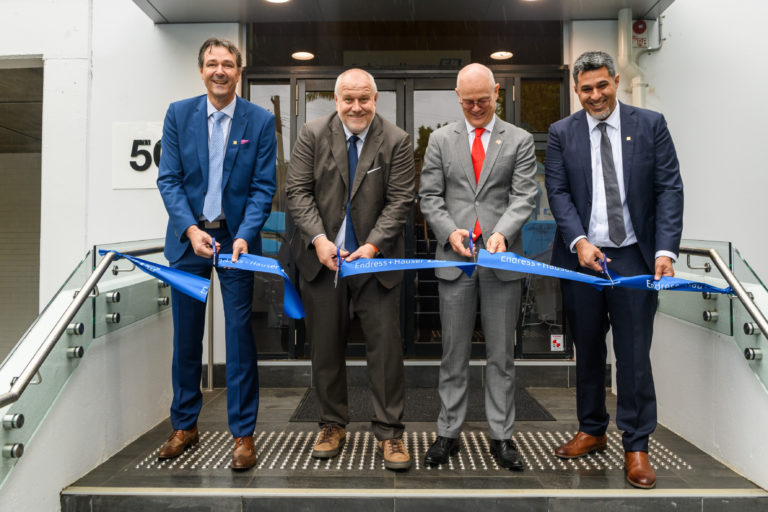 Opening of the new Endress+Hauser Australia building: CSO Laurent Mulley, CEO Matthias Altendorf, Swiss consulate representative Rolf Frei and managing director Ali Hafeez cut the ribbon (from left (Image source: Endress+Hauser AG).
The new headquarters of the Australian sales and service center is located on the outskirts of Sydney in New South Wales. The inauguration took place on 3 November 2023. In addition to Matthias Altendorf, CEO of the Endress+Hauser Group, Laurent Mulley, chief sales officer, Jens Winkelmann, corporate sales director, Ali Hafeez, managing director of Endress+Hauser Australia, and Rolf Frei, Swiss consulate representative, attended the celebration.
Continued growth to meet customer needs
Endress+Hauser has spent a total of 19 million Australian dollars (more than 11 million euros) on the acquisition, conversion and renovation of the building. By investing in its own premises, the Group is continuing a long-term growth path in Australia. The company has created a modern, collaborative working environment for its employees. The new premises also meet the increased requirements in the service sector and the growing need for training.
The new facilities include offices, a warehouse, a service workshop and a training area. In addition to the New South Wales sales team, employees for marketing, service, logistics, finance, automation solutions and human resources are also based in Sydney, as are the laboratory instrumentation experts of Endress+Hauser's subsidiary Analytik Jena.
Established in 2001, Endress+Hauser Australia has offices across the country in New South Wales, Queensland, Victoria, South Australia and Western Australia, serving customers mainly in the mining, minerals & metals, food & beverage, oil & gas and water & wastewater industries.