Netzsch Presents New Design of the Tornado Hygienic Rotary Lobe
The new design of the Tornado rotary lobe T.Sano has a completely smooth housing compared to the previous model, which attracts barely any dirt or dust. In addition to materials and cleanability of the pump area, great emphasis is placed on the outer contours of the components in the production process of the food and hygiene industries. To ensure that no dust can accumulate, the pump housing must also be designed without superfluous corners, edges and dead spaces.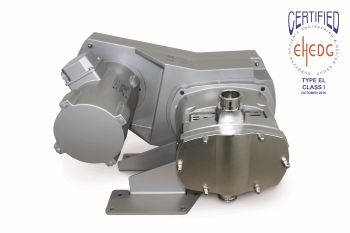 Netzsch
The range of the Tornado rotary lobe pump T2 all-metal is interesting for food manufacturers due to its lack of dead space and also due to its oil-free design and operation. This pump is driven by a tooth belt drive, whereby the lobes are simultaneously synchronized. This technology is absolutely oil-free and maintenance-free. With this technology, Netzsch offers the real full-service-in-place (FSIP).