Metering and Mixing Pumps For Color and Flavor Concentrates
A line of highly accurate, low- and high capacity metering and mixing pumps for batch processes or continuous production applications has been introduced by AMERICAN LEWA, Inc. of Holliston, Massachusetts.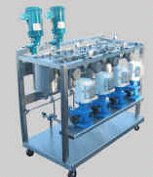 American Lewa, Inc.
LEWA Series M900 Diaphragm Pumps feature pump heads with sealless PTFE sandwich diaphragms that provide ± 0.5% accuracy and >99.97% repeatability to assure continuous, repeatable mixing of color and flavor concentrates. Permitting more accurate and repeatable recipe set points, these pumps offer stroke length and speed control to adjust flow output over ranges exceeding 50:1 and are available with capacities from 0.5 cc to 50 GPH.
Capable of being configured to handle up to 20 ingredients in a recipe, LEWA Series M900 Diaphragm Pumps can incorporate different piston diameters to optimize pump head selection to meet specific application requirements and are coupled with an internal gear reducer to assure flow output repeatability over the 50:1 range. These pumps can be skid mounted and built to meet 3A and FDA requirements and CIP/SIP cleaning.