Mecof Now Part of DST Group
In October 2007 A-TEC Industries AG a Vienna
based international industrial group acquired the
German Machine Tool producer Dörries Scharmann
Technologie GmbH (DST).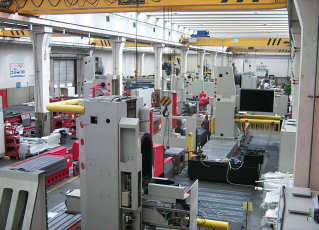 Dörries Scharmann Technologie
Due to its highly engineered products and application focused approach to its customer base and market it was decided from the start that DST would operate as an independent business outside the EMCO Group. As from the 1st January 2008 it has been decided that Mecof will be totally
integrated into the business activities of DST. The rationale behind this decision is because of the similarity in the markets and customer bases of the two companies and the fact that the Mecof product range compliments and enhances the DST range of products.
Mecof has been producing machine tools since 1947 and the brand name carries a prestigious international reputation. The extended product range of the DST group will be of significant benefit to existing and prospective customers of both Mecof and DST. Mecof will provide lighter and smaller versions of the DST Droop+Rein brand of High Speed Vertical Machining Centres, as well as interesting concepts in Horizontal Machining Centres which ideally compliment the DST Scharmann product range. By integrating Mecof, DST will employ around 900 people with manufacturing plants in Germany,France and Italy, thus creating a truly European enterprise serving a global market.
The market will further benefit from improved international after sales service, with the DST Customer Service Division taking on responsibility
for this. The DST international Sales Network will also assume responsibility for key markets working closely with the existing Mecof sales team.
Aerospace, Mould and Die, Automotive, Power Generation and General Engineering are the most significant industry sectors within which both DST
and Mecof are active and established. Both companies have created market share with some of the key players in these industries.
To facilitate the new association Dr. Norbert Hennes the CEO of DST and Daniel Rosethal the companies CFO have been appointed to the Mecof Management board. Mario Ozzano and Davide Cucinella, both long standing Mecof employees will share the general day to day management of the company as site directors.