MCE 2014 Conference Programme Focuses on Smart Plants – Smart Cities"
MCE – Mostra Convegno Expocomfort will propose a conference programme with a focus on "Smart Plants - Smart Cities", one of the most important issues facing the future of our cities, where "Smart" buildings are the cornerstones of a new way of living under the banner of energy efficiency and conservation to increase positive impacts on the territory and people's lives.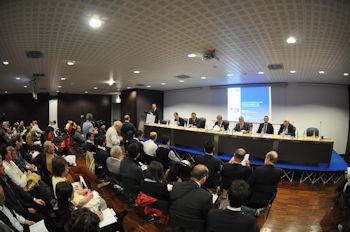 Mostra Convegno Expocomfort
A key issue that merges perfectly with a 360-degre view of best in class products offered by – so far – more than 1,500 exhibiting companies, 37% of whom coming from 52 foreign countries, featured at MCE spanning four macro areas: heating, cooling, water and energy. MCE 2014 thus showcases cutting edge solutions and innovative products focused on providing maximum efficiency in the heating, air-conditioning, renewable energy, hydro-thermal and sanitary fields, and particularly heat pumps; heating systems, equipment and components; treatment systems and equipments of primary domestic and industrial waters; cogeneration installations. All necessary tools to ensure energy production for increasing individual comfort living and to take control of energy consumption and cost.
Once again, the educational and professional upgrading will be one of the strengths of MCE- Mostra Convegno Expocomfort thanks to the support of the Scientific Committee – made up of experts from the most authoritative trade associations and federations in the reference sector, and chaired by a representative of the Polytechnic of Milan, Department of Architecture, Built Environment and Construction Engineering of the Polytechnic of Milan – covering the latest topical issues aimed at more than 155,301 trade professionals who fill the aisles of MCE and need to continuously update their skills.
A three-step approach to tackling the issue "Smart Plants - Smart Cities", will be applied ranging from the Italy scenario analysis through the introduction of the most important international case studies, and last but not least a general description of the market potential. The first conference session "Comfort Technology Designing and Installing integrated systems for energy efficiency", will take place on Wednesday, 19 March 2014, after the opening ceremony of ANIMA centenary - Federation of Italian Associations of Mechanical, and Engineering Industry. The final appointment of the Road Show tour held all round Italy from Stra to Milan, from Rome to Bari will deeply illustrate Italy scenarios with a special focus on technical and regulatory aspects of the next generation of buildings, where the installation technology provides a wide variety of functions incorporated into innovative control systems.
The second session held on Thursday, 20 March 2014, in collaboration with Associations, Universities, Bodies and Institutions, will also meet a positive response on an international level, providing an invaluable occasion to examine some of the most relevant International case studies offering an overview of cutting-edge designs to improve the energy performance, reduce energy consumption, combine functionality and advanced building management control systems.
The third and last day of the conference, scheduled for Friday 21 March 2014, will focus on the market potential to highlight the most promising advanced technology, namely heat pumps, high efficiency boilers, energy storage, as well as the new regulatory framework, and to interpret business opportunities in favour of all professional in the industry.
The conference calendar will integrate with a list of training meetings and workshops, promoting cutting-edge technology organized by the main trade associations, and other seminars set up by the exhibiting companies. An important role at MCE will be played by the synergy between "Percorso Efficienza & Innovazione", an initiative aimed to show off a selection of the most innovative and high efficient products and solutions on display, and "Oltre la Classe A", an overall showcase to highlight the highest excellence in energy efficiency.