Marketing & Sales To Be Headed by Heinz Mathys
CP is improving its organisation by integrating the Marketing department into the Sales department and renaming it Marketing & Sales from 1 July 2014. Heinz Mathys (60) is heading the department and joining the Management Team.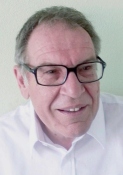 Heinz Mathys, Marketing & Sales Director (Image: CP Pumpen AG)
The sales engineer from Rothrist in the Swiss canton of Aargau has an impressive wealth of experience, in-depth knowledge of the market and significantly supported and contributed to CP's growth and development for close on thirty years.
Heinz Mathys, who trained as a mechanical draughtsman and went on to study mechanical engineering, joined CP in 1985 as a member of the internal sales force and has worked as a sales engineer since 1998. He consequently knows the company and CP's products and services inside out. Heinz Mathys will continue to pursue the sales strategy adopted, placing focus on the relevant export markets.
The father of an adult daughter believes in continuity, not only at work but also in private life. For 43 years, he has been an avid fan of Olten Ice Hockey Club (EHC Olten) and seen many ups and downs with "his" club. Raised in Rothrist, he already caught the ice hockey bug at an early age, spending much of his spare time at the ice rink in Olten.