Manchester City and Xylem tackle Water and Education Issues in Bangalore with Fan Volunteers
Five City fans from across India joined Xylem employees and Club legend Paul Dickov to deliver access to clean water and sanitation to two new schools.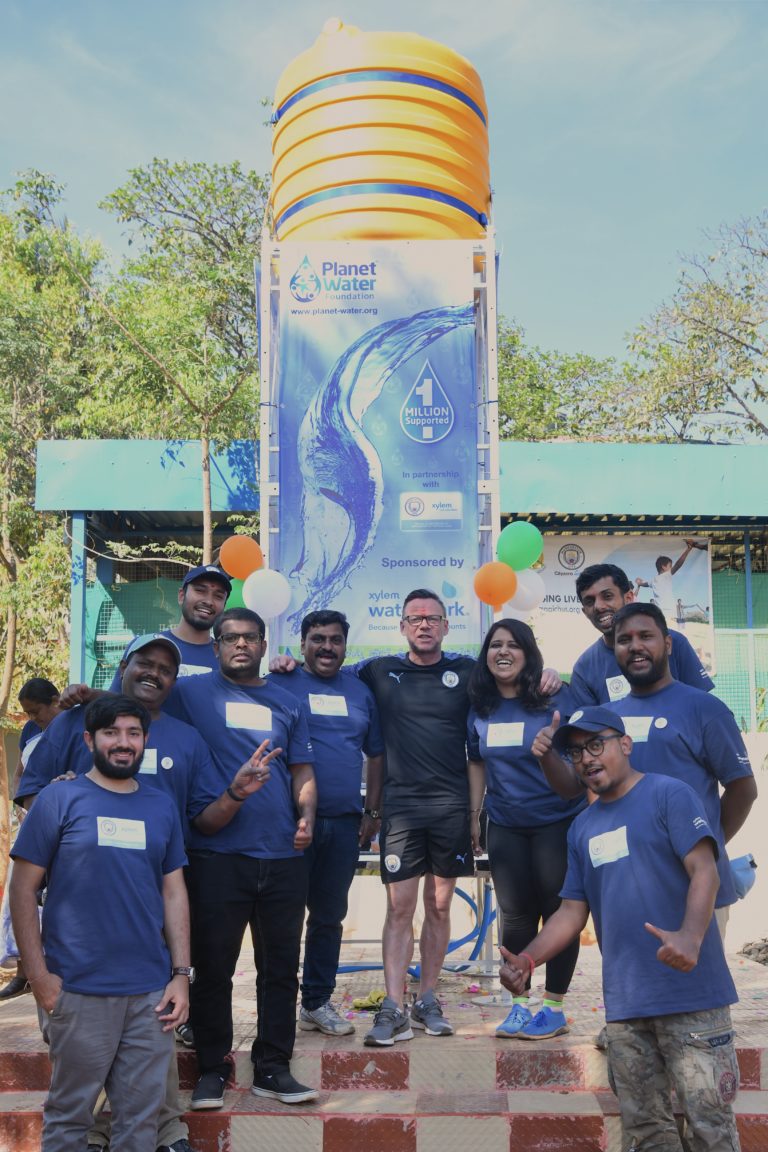 Former footballer from Manchester City, Paul Dickov (C) along with volunteering fans of Manchester Football Club, Cityzens Giving and Xylem, pose for a photograph after installing the drinking water tower unit at the Attibele GMPS Boys School on February 20, 2020 in Bangalore, Karnataka. (Photo by Manchester City FC/Manchester City FC via Getty Images)
Five Manchester City fans from across India were given an exciting volunteering opportunity to team up with the Club's Official Water Technology Partner, Xylem, to increase access to safe water for primary schools in Bangalore. Despite being one of the world's fastest growing cities, many of Bangalore's 12.3 million residents still do not have access to clean drinking water and are at risk of contracting water-borne diseases.
As part of 'Water Goals', a project supported by Manchester City and Xylem Watermark, the fans worked with Xylem and their local partner Planet Water Foundation to install new clean water filtration towers in two new schools. The schools were also fitted with an AquaSan latrine sanitisation system, to sanitise school toilets, accessible to hundreds of schoolchildren. Club legend Paul Dickov was also involved in the trip, joining the fans to complete the builds.
Since January 2019, Water Goals has trained 100 Young Leaders and reached over 5000 participants and young people in 26 locations, with support from local partner Magic Bus.
The City fans also joined up with young leaders from the Cityzens Giving project to find out how they use football to educate young people about the importance of water sanitation and hygiene. This trips marks the second annual volunteering opportunity for City fans building on the first installation of two Xylem water towers in 2019 which now provide access to clean water for up to 1800 people each day.
Paul Dickov, Manchester City legend, said: "I was honoured to join this year's volunteering trip alongside our partner, Xylem, and our amazing fan volunteers. To see first-hand the difference being made in these communities, and to be able to contribute to the building of the water towers, was an incredible experience."
Tom Pitchon, Director of City Football Foundation, said: "We are inspired by the impact of this second fan volunteering trip in Bangalore, bringing together Xylem's expertise in clean water with the passion of City fans across India to make a difference in local communities. This, coupled with the long-term impact of our existing Cityzens Giving project in Bangalore, continues to demonstrate that football can truly help tackle social issues around the world."
Joe Vesey, Senior Vice President and Chief Marketing Officer of Xylem, said: "Many of Bangalore's more than 12.3 million residents do not have access to clean drinking water and are at risk of contracting water-borne diseases. This affects their health and can also impact their education.
"Our business and our mission are all about bringing the best technology to bear on solving the world's most challenging water issues. It's so rewarding to do that in partnership with Manchester City fans, through Cityzens Giving we're bringing safe water and sanitation to thousands of students across Bangalore. This will have a huge impact on their health, on their education, and on their futures. "