Mag-Drive Pumps Enable Upgrade to Sealless, Leak-Free Pumping
The benefits of using sealless, magnetic-drive pumps as opposed to conventionally sealed pumps for transferring hazardous and reactive fluids are well documented, and the Viking Universal Mag Drive Series of Internal Gear Pumps, is a good example of this type of pump. Available from Michael Smith Engineers the proven and reliable Universal Mag Drive series comprises nine sizes of pump providing flows up to 114m³/hr at pressures up to 14 Bar.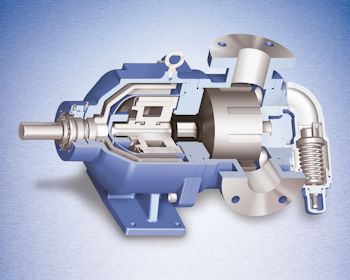 Mag-Drive Pump (Image: Michael Smith Engineers)
Reducing maintenance costs and minimising environmental impact are important, if not essential objectives for many fluid transfer applications and Viking Universal Mag Drive pumps help achieve these goals:- the absence of a pump shaft seal means significant potential savings as a result of less maintenance and reduced downtime and with only two moving parts the simple design ensures durability and reliability even in tough applications.
The pumps are dimensionally interchangeable with Viking's Universal Seal and heavy duty bracketed pumps ensuring easy retrofit with similar sized sealed pumps, often utilising existing reducer, motor, coupling, guard, wiring and base, without the need for expensive and time-consuming re-piping. The design also enables short-term dry-run capability and bi-directional operation, without the need for modification or disassembly and so allows for filling or emptying using one pump and therefore helping to minimise system costs.
Other features include, dual thrust control washers to ensure positive control of rotor position for more accurate flow and reduction of pump wear, an externally adjustable relief valve which can be adjusted while in service when process conditions change and so maximises process up-time.
Also, an adjustable rotor end clearance allows the pump to be adjusted for different viscosities and temperatures if process conditions change, ensuring high volumetric efficiency is maintained.
Available in cast iron, steel and stainless steel these tough, durable pumps provide the highest level of liquid containment available and are suitable for handling a wide range of liquids. For example, transferring hard to seal liquids such as isocyanates, sodium hydroxide, adhesives and epoxy resins, also hazardous, reactive liquids such as volatile organic chemicals, LPG and ammonia. Typical applications for Viking Universal Mag-Drive pumps include 24/7 operation in refineries, chemical and polymer plants, paper mills or wherever sealless, leak-free and low maintenance pumping is required.