Lowara Pumps Power UK's Largest Fountain
The UK's largest fountain is located in the grounds of a Worcestershire country house, which has been recently refurbished and updated by its present owner.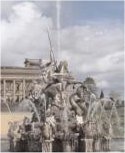 Lowara
It is said to be the largest block of sculpture in Europe.
Previously powered by water pressure from an artificial lake, the fountain now features Lowara pumps. Thhe main jet of the fountain is capable of reaching 35 meters.
Lowara Srl Montecchio Maggiore, Vicenza, which is part of the ITT Industries group, is a leader in the manufacture of hydraulic pumps and water handling and control systems. It has 900 employees in Europe, 730 operating in Italy. In 2000 its consolidated sales totalled about 150 million dollars, or over 165 million euro.
ITT Industries, Inc. supplies advanced technology products and services in key markets including: electronic interconnects and switches; defense communication, opto-electronics, information technology and services; fluid and water management and other specialty products. Headquartered in White Plains, NY, the company generated $4.7 billion in 2001 sales. In addition to the New York Stock Exchange, ITT Industries' common stock is traded on the Midwest, Pacific, London, Frankfurt and Paris exchanges.