Lowara Bolsters Building Services Presence With Heavy Duty End Suction Series
Manufacturer of pumps and pumping equipment, Xylem, has added to its Lowara product range by launching the e-NSC series, a new range of heavy duty end suction pumps aimed at the Industrial and Building Services market.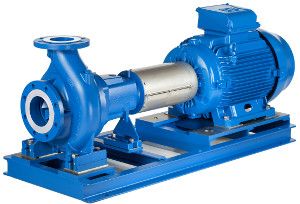 e-NSC series (Image: Xylem Water Solutions)
The e-NSC series has been designed to offer end-users the most energy-efficient solution possible. It has a Minimum Efficiency Index (MEI) well above the level required by the ErP Directive's 2015 update – and uses IE3 motors, which require very low operation costs, offering long-term economic benefits for the end-user.
When combined with Xylem's Hydrovar pump controller, the pump speed can be reduced by 50 per cent to save as much as 82.5 per cent of power consumption when compared to a traditional pump. Given the scale of many commercial and industrial heating systems, this can significantly reduce a building's energy costs without impacting on system performance.
To cater for the varying needs of the Industrial Building Services market, Lowara's e-NSC end suction pump is available in six different sizes ranging from DN100 to DN300, and has pump a flow of up to 1,800 m³/h. With a head of up to 120m the e-NSC series can perform to a maximum pressure of 16 bars and pump water ranging from -20°C to +140°C. An extended temperature version is also available which can transport water from -40°C up to +180°C.
Peter Agneborn, Global BU Director HVAC & Commercial at Xylem, comments: "Heating systems within the Building Services industry can account for a significant amount of a company's monthly energy bill. Given the size of many of these systems, installing energy-saving pumps such as our e-NSC range can provide end-users an avenue to reduce these bills and improve the overall efficiency of their HVAC system."
The e-NSC range also incorporates a number of innovative features including mechanical face seal options to eliminate leakages, and will be available in different materials – from cast iron to duplex stainless steel – to cater for any liquid which may need to be pumped. It is suitable for a variety of applications, including: water transport, hydronic heating and chiller systems, fire systems.