Lewa Takes Over Global Sales and Introduces Nikkiso Canned Motor Pumps in Accordance with DIN EN ISO 2858
This special pump design is primarily used for applications involving the transfer and circulation of critical—sometimes even flammable, explosive and/or toxic—fluids in the chemical and petrochemical industries.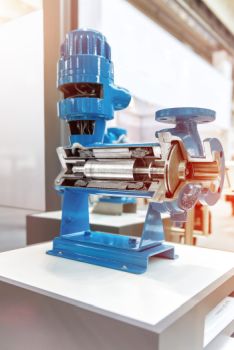 Lewa GmbH
They therefore satisfy all the requirements of API Standard 685 and ATEX Directive 2014/34/EU. In addition, they can be adapted to customer specifications. In order to meet the requirements of the European market, Nikkiso is currently enhancing its product range in accordance with DIN EN ISO 2858.
Lewa GmbH s takeover of global sales of Nikkiso Non-Seal canned motor pumps enables improved market presence and penetration, especially in the chemical and petrochemical industries, for the pump manufacturer from Leonberg, Germany. "In order to anchor and secure our shared corporate identity in the industry s consciousness and the minds of our customers, our takeover of sales is being accompanied by a global renaming effort of the individual subsidiaries. The name of Lewa, Inc. in the United States, for example, changed to Lewa Nikkiso America, Inc. In the future, we will use this naming system at all companies," explains Kazim Konus, Product Manager at Lewa. For more than 60 years, Nikkiso Co. Ltd. has been active on the world market producing and refining its canned motor pumps and has taken on a leading role in the development of new technologies in particular. "This expansion of our portfolio is now allowing Lewa to open up additional business in these industries," reports Konus. The encapsulated and entirely leak-proof design, which has the motor located inside the pressure-resistant stator housing, allows for a sealless pump design. This minimizes both immediate and long-term hazard risks for personnel and the environment. The bearings used are slide bushings, which can be designed with various materials depending on the liquid properties. The bearing material line-up ranges from carbon graphite to PTFE and silicon carbide to a mixed structure of carbon and silicon carbide that ensures exceptional wear protection. The bearings are lubricated by the pumped fluid itself, which is used as a coolant for the motor at the same time. Depending on the pump design and medium, a maximum delivery rate of up to 1,200 m³/h is possible, with fluid temperatures between -200 and +450 °C. "The outstanding technical product characteristics of the various Nikkiso canned motor pump designs make an extensive spectrum of applications possible. This ranges from high-temperature applications with thermal oils to cooling applications using liquid ammonia and CO2," explains Konus. "The pumps are designed in accordance with API 685 and are certified in accordance with ATEX 2014/34/EU. This means they meet the high requirements and loads in refineries, the chemical and petrochemical industries." For deeper market penetration in Europe, Nikkiso is currently developing models in accordance with the DIN EN ISO 2858 standard.
"As the first step, we are expanding the current series with five new models designed in accordance with DIN EN ISO 2858; seven additional models are being planned," reports Konus. "Compliance with the standard lets us offer our customers a dependable alternative to conventional centrifugal pumps with a mechanical seal. Thanks to the standardized connection dimensions for the suction and discharge nozzles, the new models can be installed in both new and existing plants without changing the pipeline isometrics." In addition, the standard nominal outputs are also adhered, with a specific head assigned to each of a variety of flow rates, taking into account the nominal width of suction and discharge nozzles.
Announcements mark November 2018 as the launch of the first new models, with the development of additional output ratings continuing in parallel. They will then be successively introduced to the market.
In order to improve dependability and operating reliability as well, Nikkiso developed the E-Monitor, the world s most advanced monitoring system of its kind. It enables continuous monitoring of the bearing conditions for hermetically sealed pumps, thereby ensuring the requirements for maximum reliability. In order to accomplish this, sensors integrated into the stator detect and monitor the radial and axial position of the rotor assembly during operation. In the event of an issue such as bearing wear, the corresponding sensors register the exceptional situation immediately. This is indicated on a display using a traffic signal system so that measures for maintenance can be scheduled accurately. All canned motor pumps are easy to install and service thanks to their modular design. Even spacer discs and clearance settings are unnecessary.
"The technology offers potential in every application, which is why we are now proud to add the Nikkiso Non-Seal canned motor pumps from Nikkiso to our sales portfolio," says Konus with satisfaction.