KSB Online Pump Acceptance Testing Now Online
The KSB Group introduces the newly created online pump acceptance testing.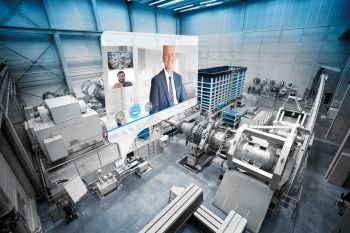 Test facility of the Halle site, specialised in water and waste water pumps, now enabling online acceptance testing. (Image: KSB SE & Co. KGaA)
When purchasing large pumps, hydraulic acceptance tests and a final inspection are an essential proof of compliance with the guaranteed values. In the past, customers always had to travel to the test facility to witness their purchased pump being tested
As testing usually takes place at the manufacturing plant, this is a time-consuming and costly trip, especially for international projects or those that are far away. Online acceptance testing is KSB's answer, developed as a process enabling reliable and standard-compliant pump acceptance testing. The tests conducted are transmitted live via a specially protected part of the Internet. In an online meeting between pump manufacturer and customer, the customer can see the live camera view of the pump in the test facility as well as the characteristic curve measurement during testing.
In addition to pressure and flow data, the test software records all further performance data required for a measurement to inspection/testing standard DIN EN ISO 9906, enabling the derivation and assessment of the pump's efficiency. Measurements can also include the sound level and vibrations. Prior to the acceptance test, KSB provides the customer's test engineer with organisational information, order data sheets and a precise description of the acceptance testing. This comprises details on the measuring instruments used including the corresponding calibration certificates. After the acceptance test KSB e-mails the test engineer the certificates to be signed. This tried and tested process is implemented in compliance with the acceptance test standards.
Online acceptance testing is available at the Halle site, specialised in water and waste water pumps, as well as at some of the pump manufacturer's other sites. The test facilities can accommodate pump sets with a drive rating of up to 10 MW and a flow rate of up to 21,000 m³/h. String tests with the customer's original motors, transformers and frequency inverters can also be performed.