KSB: New Lifting Unit For Restricted Space Installation
Although mini-Compacta US1.40 E/D is an especially small compact lifting unit, it features all functions of the existing sewage lifting units from the mini-Compacta and Compacta ranges. Moreover, it meets all requirements of the new EN12050-1:2015.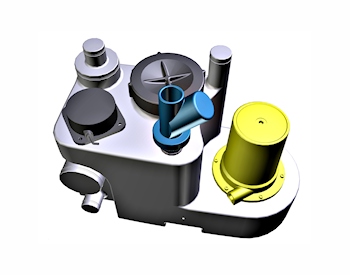 A computer simulation of the new mini-Compacta US1.40 E/D will be presented to the public for the first time at this year s ISH. (Image: KSB)
Measuring 600mm×300mm×300mm, it is ideal for use in private households where installation space is limited. If space is particularly tight or a room for technical installations not available, it is also possible to mount the unit in the bathroom concealing it behind a suitable in-front-of-the-wall installation.
The unit is fitted with a powerful hydraulic system capable of pumping 14 m³/h of domestic clean or dirty water, and waste water containing fibres and/or faecal matter at a head of up to 18 metres. The mini-Compacta US1.40 E/D s steep characteristic curve ensures that the risk of clogging is reduced and planning reliability increased while its hydraulic system allows it to pump waste water across up to four storeys.
The solids and fibres contained in the waste water are shredded by an integrated cutter, making the unit suitable for use with discharge pipe cross-sections from 32 mm. This makes the unit particularly interesting for the refurbishment of old buildings as the existing discharge piping does not have to be replaced.
The unit is designed with a 40-litre gas-tight and water-tight plastic tank whose smallest effective volume is 10 litres with horizontal inflow and 17 litres with vertical inflow. The continuous temperature of the fluid handled should not exceed 40 °C. As the sewage lifting unit can also cope with waste water temperatures of 65 °C for a short-term period of operation, connecting it to a washing machine is no problem.
The unit is driven by a 230V A.C. motor with a 1.65 kW power rating or a 400V three-phase motor with 1.5 kW. Designed for so-called S3 50% intermittent operation, the motors can be started up to 60 times an hour at a relative operating time of 50%, making their operation particularly efficient.
The control unit LevelControl combined with an analog float switch allows the sewage lifting unit s effective volume to be easily adapted to match customer-specific inlet conditions. The control unit is provided with an integrated acoustic alarm making the installation of an additional alarm switchgear close to the sewage lifting unit unnecessary.
The lifting unit s scope of supply includes a ball check valve for installation in the discharge pipe and all switchgear and control units required for operation. The unit is supplied ready to be plugged in. A trained electrician is not required for its installation.
KSB is presenting the new Lifting Unit at this year s ISH, taking place from 10-14 March 2015 in Frankfurt/Germany, for the first time.