KSB France opens major service centre in Aix-en-Provence
KSB France inaugurated its new Service Workshop Centre in Aix-en-Provence. The plant was formally opened on the 23rd March by Boris Lombard, Director General KSB Region for Western Europe, at a ceremony attended by local civic dignitaries, more than 200 customers and KSB France employees.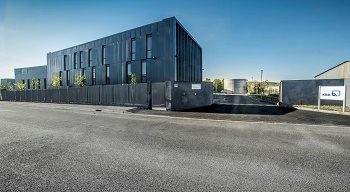 KSB France opens major service centre in Aix-en-Provence (Image: KSB)
The new KSB Service Workshop represents a four million Euros investment in a region where the company has had a presence for over 38 years. The new facility houses the Rhône Méditerranée regional office and a 1450m² service centre in a purpose-designed building. The spacious service workshop, which is the largest facility of its type in the region, offers high quality services for the repair of pumps, valves and rotating equipment of all types and brands. The facility occupies a central geographical location for the industrial areas of the region, including: Vitrolles, Berre, Mede, Lavera, Port de Bouc and Fos sur Mer, as well as Aix, Toulon, Marseille and Avignon.
Welcoming the assembled guests, Boris Lombard explained that the new KSB workshop is part of the group s development strategy, which over the years has created a network throughout the country with 22 regional service workshops and 80 external partners. The aim is to be as close as possible to customers and to assist them in maintaining and modernising their plant and equipment.
The Service Workshop includes a large storage area with the capacity to hold up to six hundred 1-ton pallets, a 500m² machining hall equipped with lathes, milling machines, radial drilling machines, mortising machines, etc., and a 5-ton lifting bridge. Parts can be manufactured up to 900mm in diameter and 5000mm in length, and balancing capacities are up to 320 kg, 1300mm in length and 1260mm in diameter. The 700m² assembly hall comprises 10 mounting stations equipped with three 500 kg jibs, two plinths, and a 10-ton bridge with 6 m tackle. The hall also contains a deep pit measuring 4m x 4m x 4m which allows the installation of vertical pumps up to 5m (shaft pumps or submersible drilling pumps) and hydraulic performance tests with a capacity to hold 64m³ of water.