KMT Waterjet Strengthens its Global Service Team
KMT's service specialists assist customers with useful advice and excellent maintenance services for your STREAMLINE high-pressure pump and provide operators the necessary original KMT spare parts - around the clock and anywhere in the world.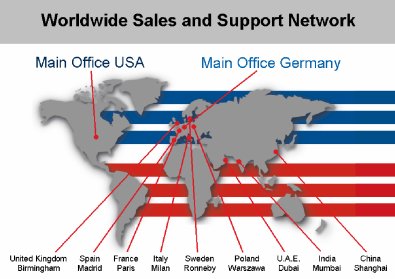 Every day, KMT Waterjet installs a new system somewhere in the world
As the number of installed units is constantly increasing, KMT Waterjet extended its service team to ensure continued optimised service for all KMT Waterjet customers. Their latest recruits will work in Scandinavia (Ulf Brorsson), Great Britain (Mike Crow), Central and Eastern Europe (Tomasz Paszek), Spain (Oscar Salguero) and India (Bibek Karn). With this approach, KMT Waterjet pursues its strategy of local presence and close customer relationships. Customers benefit from shorter response times for hotline and on-site services. As they can communicate with technicians in their local language, the quality of advice and service is further improved. All these measures taken by KMT Waterjet ultimately help improve the utilisation and efficiency of your waterjet cutting unit.
Expansion of our after-sales service department
In September 2006, Ralf Weintritt, After Market Salesman, joined the spare and wearing parts department. He will look after customers in Germany, Austria and Switzerland and assist them in all issues in connection with original KMT spare parts. The spare parts department is looking after spare and wearing parts of a total value of more than 3.0 million Euro. KMT Waterjet customers benefit in a number of ways from our extensive parts store:
Emergency delivery of original spare parts within 24 hours
Service outside regular office hours
Minimum downtimes for parts replacement
Greater availability of the unit
Reduced storage costs
Improved production safety
KMT GmbH • Waterjet Systems launches new corporate design at the EuroBLECH 2006 trade fair
At the EuroBLECH 2006, KMT Waterjet will present its new logo and revised corporate design. The changes are, however, subtle and are aimed at the further promotion of the KMT brand. All affiliated companies in the fields of waterjet cutting, precision grinding and sheet metal working are now trading under one name and a shared corporate design. Apart from the shared logo, the KMT group now features a unique and recognisable symbol of three bars in blue and red respectively. The group's claim of "KMT - Creating value through precision" summarises the core strengths of all KMT products and services.