Kirloskar Brothers Limited Showcases New Generation of Energy-Efficient Pumps
Pune-based Kirloskar Brothers Limited (KBL) announced that it has showcased a series of new generation energy-efficient pumps for the benefit of farmers.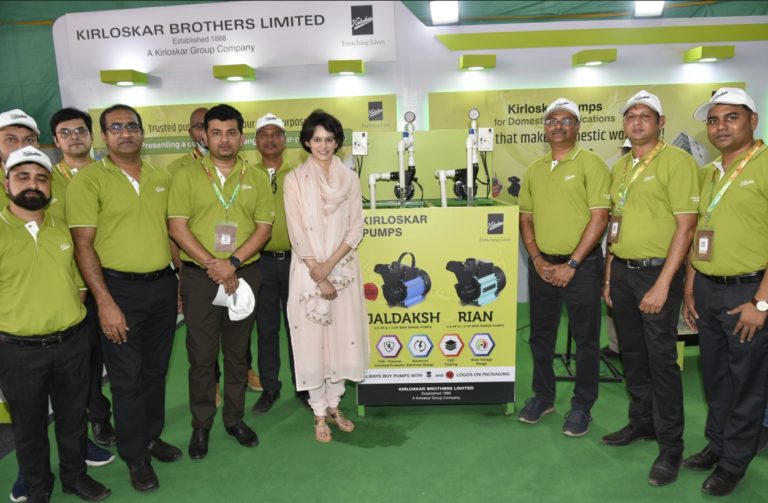 KBL showcases new generation energy-efficient Pumps at Kisan Mela. (Image source: Kirloskar Brothers Limited)
The pump range was launched at Kisan Mela 2022, India's largest agricultural trade show in Pune.
KBL's recently introduced new generation of pumps is unique in many ways. Manufactured with advanced technology, the pumps consume less energy with high performance. Therefore, farmers can save money through lower electricity bills by using Kirloskar's new generation of pumps for irrigation purposes.
"We have contributed to the prosperity of farmers by manufacturing energy-efficient pumps from the very beginning and will continue to do so in the future," said Rama Kirloskar, Joint Managing Director, Kirloskar Brothers Ltd. With Kirloskar pumps, efficiency remains constant over a long period of time, so there is no loss of efficiency as is the case with conventional pumps in the market. Kirloskar pumps help save energy and reduce farmers' electricity costs by up to 20 percent compared to other pumps available on the market.
Choosing the right pump for irrigation contributes to the overall prosperity of farmers. Farmers can therefore rely on the new generation of Kirloskar pumps, which are energy efficient, have lower electricity and maintenance costs, and have a lower risk of motor fire, resulting in the lowest life cycle cost (LLC). Kirloskar pumps have been trusted and preferred by customers for over a century.
The submersible pumps are capable of pumping water from deep boreholes, which means farmers can use these pumps even when the water table drops below a certain level. In addition to its wide range of water-filled submersible pumps, KBL also offers the most extensive range of oil-filled submersible pumps in the Indian market. Oil filled submersibles are not as well known as water filled submersibles, as most manufacturers do not make this product and therefore do not market it. Oil-filled submersibles have a great advantage over water-filled ones in markets plagued by voltage fluctuations. Our submersibles have one of the widest voltage ranges from 150 to 240 volts. This ensures that our oil-filled submersibles are resistant to engine burns due to these fluctuations. In addition, our oil-filled submersible pumps have Class F insulation, which also minimizes the risk of motor fire. High-quality bearings used in the oil-filled submersible pumps reduce wear and ensure continuous operation and efficiency over a longer period of time, resulting in longer pump life. Unlike water-filled submersible pumps, oil-filled submersible pumps are suitable not only for vertical installation but also for horizontal installation. When installed horizontally in a water tank, it is capable of draining the tank to a point where it is nearly empty, preventing the accumulation of sediment and stagnant, foul-smelling water. The efficient and energy-saving design of oil-filled submersible pumps results in continuous operation and lower utility bills. Water-filled submersible pumps require frequent rewinding, which is not the case with oil-filled submersible pumps.
A unique feature of KBL water- and oil-filled submersible pumps is the advanced sand trap design. When the pump is retrieving water from sandy wells, the likelihood of sand being carried along with the water is very high, reducing pump efficiency and increasing wear on pump components. KBL's advanced sand control technology prevents sand from entering the pump, thus avoiding pump wear, preventing pump clogging, and resulting in higher efficiency and longer pump life.
Other features of the KBL mini-series include light weight and compact design. These pumps feature a high efficiency and energy-saving design, as well as thermal overload protection. The motor of these pumps is designed to withstand a wide range of voltage fluctuations from 180-260 volts, reducing the risk of motor fire. These pumps are used in agricultural and domestic water supply applications, among others.
Kirloskar Brothers pumps provide trouble-free and reliable operation throughout their service life. They are also highly efficient and have low maintenance costs, resulting in further cost savings for the end user.
Manufactured with enhanced features, these pumps bring up to 24 months of warranty which ensures cost-free repairing and servicing in case of any default during this period. In general, Kirloskar pumps deliver services in all conditions for several years without any maintenance cost, provided they are operated and handled efficiently.