KBL Awarded at the 5th Asia Employer Brand Awards 2014
Kirloskar Brothers Limited has been recognized yet again at an international forum. The latest recognition comes for its all-women plant in Coimbatore. KBL's Coimbatore plant has received the Best Employer Brand Award towards Women Talent Management at the fifth Asia Employer Brand Awards 2014 held in Singapore.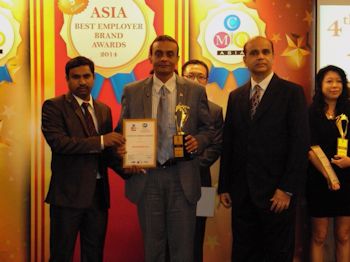 Mr Shreekanth Ramaswami, KBL, Thailand, received the coveted award from "World HRD Congress" on behalf of KBL's Coimbatore plant. (Image: KBL)
The award consists of two categories, namely – 'Best Talent Management' and 'Initiative for Community Awareness'. Mr Shreekanth Ramaswami, KBL, Thailand, received the coveted award from "World HRD Congress" on behalf of KBL's Coimbatore plant.
Asia's Best Employer Brand Awards are jointly hosted by the Employer Branding Institute, World HRD Congress and the Stars of the Industry Group, and were supported by strategic partners CHRO Asia. The Awards were endorsed by Asian Confederation of Businesses. The awards are designed, owned and executed by the Employer Branding Institute, an organization managed by professionals from various countries and geographies who share the same passion in human resources.
On receiving the award, Dr RV RajKuumar, General Manager – Plant Head, Coimbatore plant, KBL said "We are extremely honored to have received this prestigious award and thank the Employer Branding Institute for recognizing our efforts to make our Global footprint in People Management. Our philosophy, processes, policies and practices reaffirm that there are no disparities made based on gender or religion or family background. Merit and performance are the only key differentiators. I am very much thankful to the KBL top management for strong focus on women empowerment which is the key to national development".
Kirloskar Brothers Limited (KBL), from its inception, has been known as an organization that propagates an all-inclusive culture. Diversity and inclusion have been crucial parts of the common vision at KBL with good people practices persistently being executed and preserved in all KBL offices.
The awards acknowledged more than 100 organizations across Asia that demonstrated excellence in building their brands and identities as employers of choice visible through their human resource practices, polices and strategies, honoring exemplary work in employer banding in more than 20 Asian countries. Some of these included Daimler Benz Asia Pacific, HSBC Hong Kong, McDonalds Asia Pacific, Warren Buffet Investments, Bombay Stock Exchange, ICICI Securities, Tata Consulting, Qantas, Emirates, PETRONAS, Air Asia, DBS Bank etc.
Some of the eminent personalities who were part of the jury included Global Chairman of World HRD Congress, Michael McDonald; Global Chairman of Asia Pacific HRM Congress, Professor Tom Hilton; and President of Foundation for Liberal & Management Education and India's Iconic HR Leader, Professor Indira Parikh, among others.