Jet Edge Waterjet Systems Announces Distributor in Southern Africa
Jet Edge, Inc. is pleased to announce that Jetstream Cutting Solutions CC of Johannesburg, South Africa, has been selected as its waterjet systems distributor for Southern Africa.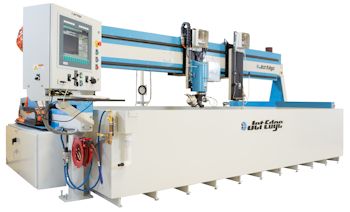 Jet Edge
Jetstream Cutting Solutions carries Jet Edge's full line of waterjet cutting and surface preparation equipment, including waterjet cutting machines, waterjet intensifier pumps and portable waterjetting systems. The company also supplies genuine Jet Edge OEM waterjet parts and is authorized to service Jet Edge waterjet equipment. In addition to Jet Edge waterjets, Jetstream sells, installs and services other 3-axis waterjet systems and UHP pumps.
"We are very proud to have Jetstream represent Jet Edge in Southern Africa," said Dave Anderson, Jet Edge international sales manager. "They are a recognized Jetstream system supplier in their market, and their extensive experience with CNC technology and other waterjet systems will be a tremendous benefit to Jet Edge customers. Jetstream already supplies approximately 25 percent of the market in their territory. Jet Edge believes there is tremendous growth potential for our waterjet equipment on the Sub-Saharan African Continent."
Malcolm Cruickshank, Jetstream's founder and director, said he decided to carry Jet Edge waterjets after integrating a Jet Edge X-Stream pump with another 3-axis system.
"We know waterjet pumps and we could see this was a quality product," Cruickshank said. "After investigating Jet Edge and checking its customer references, I could see that the companies who were using Jet Edge equipment were serious waterjet users. There was no reason not to use the Jet Edge pump.
"This is a very exciting time for us that we're involved with such a world renowned name in the waterjet industry. Our biggest market so far has been the glass industry, but the Jet Edge products will allow us to reach the larger metal cutting industry and to take on specialized projects as well."