Jet Edge Modular Waterjet Pump
Waterjet manufacturer Jet Edge, Inc. introduces the iP36-50 Modular Waterjet Intensifier Pump. Designed for ease of portability, the 36KSI (2500 bar), 50hp waterjet pump features a modular design that makes it easy to move into tight spaces, such as small passageways, ship engine rooms and ballast tanks.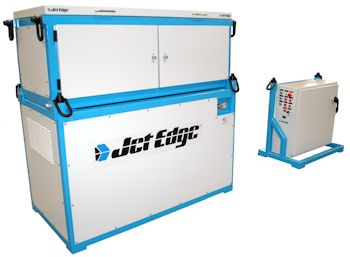 Jet Edge iP36-50 Modular Waterjet Intensifier Pump (Image: Jet Edge)
The Jet Edge iP36-50 Modular Waterjet Intensifier Pump produces up to 1.8 gpm (6.8 L/m) of 36KSI (2500 bar) ultra-high pressure (UHP) water for precision cutting, cleaning and surface preparation applications. It includes three modules with lifting eyes.
The modules can be stacked to save space during operation or storage. The pump's hydraulic module contains the electric motor, hydraulic pump, hydraulic fluid supply, a plate style heat exchanger, and related components to produce the hydraulic power to operate the intensifier. The hydraulic module also has an adjustment to set the hydraulic pressure that controls the ultra-high pressure. The pump's water module contains the intensifier, attenuator, bleed down valve, water filters, and related components to produce the UHP water. The electrical module contains the electrical components to operate the electric motor and intensifier. The electrical module also issues control signals and monitors sensor signals. The modules are linked together by hydraulic hoses and electrical cables which allows for separation of the modules from each other to a distance of 10 feet (3m).
Jet Edge offers a wide range of waterjet pumps, including 30-280hp waterjet pumps in 36KSI, 60KSI and 90KSI models, electric and diesel. Jet Edge also manufactures precision waterjet cutting systems, mobile waterjet cutters, UHP surface preparation equipment and water jet parts.