ITT Bornemann Commissions New Test Bench for Hygienic Pumps
ITT Bornemann commissions a new state-of-the-art test bench for the hygienic screw spindle pumps from the SLH series. This investment amounts to approx. EUR 400,000 and significantly strengthens the location in Obernkirchen/Germany.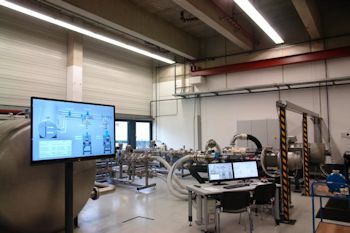 New test bench for hygienic pumps
The test bench is at the highest level in every respect: it can run two pumps in parallel and in series. On the one hand, this enables shorter lead times in production and on the other hand more complex delivery tasks can be simulated, tested and demonstrated to interested customers.
A complex control and production data acquisition enables the analysis of all aspects of the pumps to be tested from the standard test run each screw spindle pump from ITT Bornemann is subjected to before delivery (testing pressure and volume flow) to special NPSH testing, vibration measurements and temperature profiles.
The new test facility is tailored to the advanced capabilities of the new SLH 4G series, and thanks to its intelligent design it is highly flexible.
The staff of the ITT Bornemann "Food and Pharmaceuticals Team" are happy about the inauguration of the new work equipment: "The new test facility removed a "bottleneck" in our production which was becoming more and more critical due to the two-digit growth rates. We are particularly excited about the technical features which enable maximum test conditions - a basis for quality. In addition, the design in accordance with the latest occupational safety requirements enables us to work efficiently without risk to man and machine - in short, an all-round winner."