ISH 2003 Trade Fair Novelties – Part 2: Sewage and Drainage Technology
In this second part impeller.net reports on the most important novelties on pumps and lifting stations for sewage and drainage applications.
Sewage and drainage technology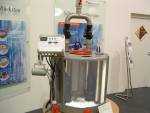 ACO Passavant www.aco-passavant.de presented their multi-faceted product range for soil sewage. One main focus of their production range is an all-embracing back flow protection programme, which comprises active components such as pumps and lifting stations as well as passive parts (backwater gates). One of Aco's new developments is the MULI-MAX pumping station designed to discharge faecal and non-faecal sewage from below sewer level located sites of non-commercial and commercial premises. The unit features a buoyancy and deposition resistant reservoir, an up to 2.95 m extendable shaft as well as a pressure line and a haulage chain made of corrosion-resistant stainless steel. MULI-MAX is also provided with an electronic interface linking it up to the building service control system. Muli-Mini small lifting stations have been developed for drainage of sanitary facilities (e.g. showers, washhouses) located below sewer level. They are designed to discharge wastewater and can easily be combined with grease traps. The station is available as single or twin pump lifting station operated by non-chokable pumps with a free passage of 38 mm and equipped with a buoyancy resistant reservoir fixation.
The Swiss pump manufacturer Biral www.biral.ch presented their lifting station model FHA, which also exists as single or twin station equipped with a gas and odour-proof plastic container. These lifting stations are also available as macerators under the type designation FHAG. Appropriate controls ensure faultless operation and monitor main operating functions.
ESPA's www.espa.com compact small lifting station CLEAN is, according to manufacturer statements, the first product of its kind where the engine can be removed for maintenance purposes without getting into contact with faecal matter. Above that, ESPA vouches for easy installation, compact design and silent operation. The system is said to be notably more slender than the majority of comparable plants available on the market. Thus, it can easily be installed in-between the toilet and wall. Apart from its toilet connection CLEAN is equipped with three additional grey water inlets for the sink, the shower and the washing machine. The possibility of connecting the system in three different ways considerably facilitates pipe laying. The station can handle waste water up to 8 m of height and a distance of up to 100 m.
HOMA Pumpenfabrik's www.homa-pumpen.de lifting station product range has been enriched by Sanistar PLUS. The voluminous 300 l collecting tank at compact external dimensions as well as various vertical and horizontal inlet connection possibilities make the station first choice every time when it comes to discharging huge amounts of waste water off buildings. Soft ball check valves operate exceedingly silently and are absolutely tight. The new control panel ensures fully automated pump operation. An integrated interface facilitates maintenance, programming and diagnostics carried out by HOMA's servicing device ServCom. Further new HOMA products are SK6, a compact plastic shaft, as well as CR 250, a stainless steel submersible pump motor.
Jung Pumpen's www.jung-pumpen.de new and compact underfloor sump Baufix 50 is a clean and quick solution for installing effluent sumps in wash houses, cellars and stores. The small and compact collecting tank and the sump pump U 3 KS Niro dispose domestic effluent of washing stands, wash basins, showers and washing machines. An extendable chamber neck in combination with a level compensating and revolvable masking frame ensure ideal adaptability to ground conditions at the installation site.
KARB Italia www.marinox.it presented their stainless steel sewage pump K and PV, equipped with alternating current motors ranging from 0,74 to 2,2 kW and mounted float switches.
Little Giant www.littlegiantpump.com introduced 5-MSPR, a new drainage pump for domestic, commercial or industrial applications (for orders in the German speaking region, please, contact Calpeda). The pump is designed to discharge and remove water without abrasives and fits in extremely tight places thanks to its small size. However, the standard model can only be run for a short time in non-submerged state.
The Italian pump manufacturers Speroni www.speroni.it exhibited their new sewage pumps of the ECM / SEM series. The series comprises pumps equipped with single channel and vortex impellers as well as macerators. The pumps are designed for domestic or industrial use, at construction sites or for agricultural applications.
The Nocchi Priox sewage pump series, produced by Sta-Rite www.nocchi.it, now comprises units with improved capacity, i.e. capable of discharging fluids up to 600 l/s to a height of 13 m. These stainless steel pumps have a free passage of 50 mm.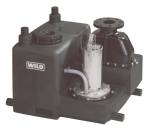 Wilo's www.wilo.de new drainage lifting stations DrainLift M/L excel in easy assembly, extremely little weight (DrainLift M1: 45 kg; DrainLift L2: up to 82 kg) and integrated check valves. The huge tank volume and the integrated battery powered alarm are to guarantee the highest degree of safety. In addition, inlets that can be chosen arbitrarily, offer a high degree of flexibility. Standard insulating mats prevent sound transmission.
The self priming sewage pumps Wilo-Drain SP 25 are suited for discharging huge amounts of water in market gardens, agriculture and industry. Polypropylene and bronze prevent corrosion and render the unit resistant to salt water damages. Thus, the pump can also be used in aquariums and on fish farms. Due to its minimised weight and a grip the unit is ideal for mobile use. Wilo's Drain TC 40 and TS 40/50/65 submersible pumps also represent new highlights in the manufacturers product range.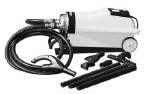 Zehnder's www.zehnder-pumpen.de Universal Schlammsauger USS 3000 (diaphragm pump) removes sludge and undesired solids off heavily polluted garden ponds. The absence of an integrated and therefore limited collecting tank enables this rugged diaphragm pump, embedded in a stainless steel casing, to discharge media continuously. For this reason it even disposes small stones, sand, foliage etc. Cellars and shafts flooded by sludge and sewage are emptied fast and efficiently, dirt residues are sucked off quickly and easily.