Individual Vacuum Solutions by Busch for Pneumatic Conveying Processes
Busch Vacuum Pumps and Systems offers tailored vacuum solutions for pneumatic suction conveying and process technology.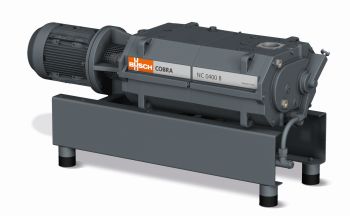 Cobra NC 0400 B dry screw vacuum pumps are particularly well suited for use in process technology in the foodstuff, pharmaceutical, and chemical industries (Image: Busch Vacuum Pumps and Systems)
Busch specializes in vacuum applications for pneumatically conveying bulk goods, and its Mink MV series combines optimum pumping speeds with maximum efficiency. The Mink MV dry claw vacuum pump is a further development of the Mink MM series, which is seen as the proven standard in many industrial sectors. Busch also offers its Mink claw vacuum pumps in explosion-proof versions in accordance with the Atex directive, especially developed for use in sensitive processes and for the highest possible level of safety.
Mink MV claw vacuum pumps are available in five sizes, with pumping speeds from 300 to 1,200 m³ per hour; covering the full range of pumping speeds required in pneumatic suction conveying. In addition, they are particularly suitable for use as individual vacuum modules in centralized vacuum supplies to which several conveying systems can be connected, and through the use of which an entire plant can be supplied with vacuum. Frequency-controlled Mink MV claw vacuum pumps can be perfectly adapted to the process requirements. As a result, it is possible to comply precisely with a defined pumping speed, even under changing process conditions, or to constantly guarantee a specific vacuum level. This type of demand-driven control enables further energy savings.
Busch also presents its Cobra NC dry screw vacuum pumps developed specifically for process technology. These screw vacuum pumps are always used if compression without operating fluids is required in process technology for the purpose of preventing cross-contamination between the process gas and operating fluid. As the Mink MV claw vacuum pumps, they function completely without operating fluids in the compression chamber. Their high vacuum performance of up to ≥ 0.01 millibar makes Cobra NC screw vacuum pumps particularly well suited to distillation processes.