Hoyer Group with new record results in 2019
Hoyer Group continues the growth after the 2018 record year and is on track with strategic ambitions to strengthen the position in selected markets and niches.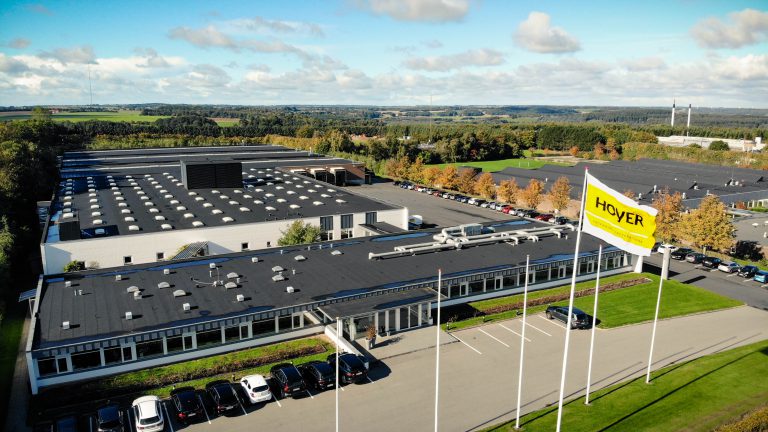 Hoyer Group HQ Denmark. (Image source: Hoyer Group)
In 2019 the turnover increased by 37 percent to DKK 709,4 million. In the same period operating earnings almost doubled to an EBITDA result of DKK 83,8 million. The result reflects prosperity in several key segments where Hoyer has succeeded in gaining market share.
"Hoyer Group is satisfied with the 2019 result and in particular the way we have managed to implement and execute the selected strategy. It underlines the continued potential and the organisation's ability to drive changes despite of growth and busyness," says Søren Ø. Sørensen, Chairman of the board, Hoyer Group.
In addition to the financial results Hoyer has succeeded in increasing both the customer and employee satisfaction in 2019.
"Across our segments we experience an increasing demand to offer more than just a good product. Therefore in 2019 we have made significant investments including new test facilities, an optimised supply chain setup in Asia and our human resources. It is satisfactory to see that our strategic initiatives are acknowledged by our customers and employees," says Henrik Sørensen, CEO, Hoyer Group.
A strong position in a challenged market
2020 will be a challenging year as a consequence of covid-19. However, with the strong 2019 results combined with a divestment of the business unit Hoyer Transmissions in Q1 2020, Hoyer Group has a solid basis. Søren Ø. Sørensen elaborates:
"Despite our concerns related to the effect of covid-19 we have a strategic as well as financial situation that enables us to continue the development and meet future challenges. There are still many opportunities for Hoyer and we expect to exit the crisis strengthened by applying a considerate acceleration of the business."  
The financial foundation is also highlighted by Henrik Sørensen:
"The new situation is challenging our strategy but we have the liquidity to continue and even accelerate our investments in selected markets and initiatives. We will have a very clear priority and focus on short-term initiatives that further benefits our customers' intensified attention to supply chain optimisations."
Hoyer Group key figures 2019
Turnover: DKK 709.4 million
EBIDTA: DKK 83.8 million. 92 percent growth
18 percent increase in order intake
28 percent net debt reduction.