Geared Motors And Industrial Gears – A Supplier Landscape Characterised By Two Contrasting Trends
The geared motors and heavy-duty industrial gears market was valued at $10.6bn in 2019. Following a -7 percent contraction in 2020, growth will quickly resume and a 2020-24 CAGR of 2.1 percent will see the market hit $13bn by 2024.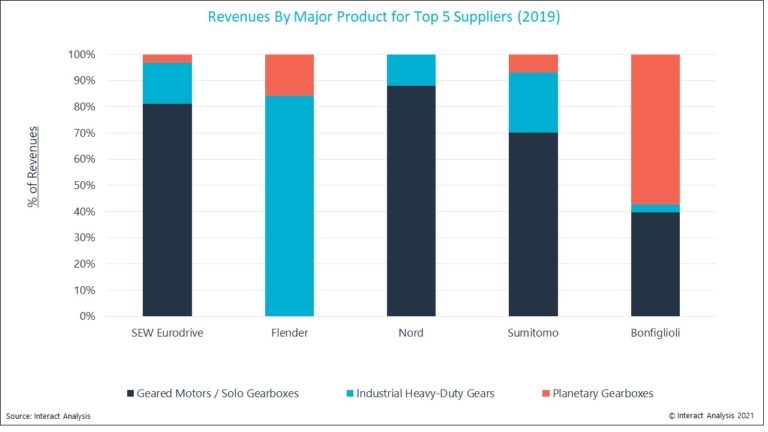 Vendors typically have strength focussed around a specific part of the gearbox business. (Image source: Interact Analysis)
In this article, we take a look at a supplier landscape characterised by two contrasting trends: a small number of unusually dominant firms; and an unusually large number of overall suppliers into the market.
Global market shares – SEW dominates
Germany-based SEW Eurodrive leads the pack by a very significant margin when it comes to global market share for the overall market. In fact, they are the only supplier whose market share hit double-digits at 23.5 percent in 2019. Flender and Nord were next, with 9.5 percent and 6.5 percent shares respectively. As many readers may know, last October Siemens announced it is selling Flender, its mechanical and electrical drives business, to global investment firm Carlyle Group for a reported €2bn – a deal that was given the green light by the European Commission in January and which completed in March.
A highly fragmented supplier landscape
The market is highly fragmented with over 100 suppliers detailed in our research, and it is led primarily by motor or gearbox specialists with significant strengths in mechanical engineering. It is notable that only two of the top 16 suppliers to the market are full-spectrum industrial automation providers. Why this should be the case is debateable, but it is likely to be because the wider automation solutions providers often consider AC motors to be a commodity, and hence steer clear of the entire motors and gears market.
The largest 8 vendors are all motor driven system suppliers, while 13 of the top 15 vendors offer at least two types of gearbox. Only Lenze and Siemens (minus Flender) offer a portfolio consisting solely of geared motors and solo gearboxes, although three of the top five have over 70 percent of their revenues come from these areas (see graph below). Meanwhile, Bonfiglioli and Dana each take over 50 percent of revenues from planetary geared motors and gearboxes.
It is also very notable that European suppliers lead in all areas of the gearbox market with 50 percent being the minimum share that European companies hold in any sector. By contrast, US companies hold only 8.5-11 percent in each segment, while Chinese companies had one notable strength, representing over 30 percent of the heavy-duty industrial gears market (see table below).
A look at market shares by segment
Geared motors / solo gearboxes
The geared motors / solo gearboxes market is valued at $5.6bn and, as with the global market, SEW is in first place with a whopping 36 percent market share. Nord was second largest, also with a double-digit market share of 11 percent, while Japan's Sumitomo sits in third place with 8 percent of the market. This picture is a little different at the regional level where, while SEW leads in all three major regions – Europe the Middle East & Africa (EMEA), Asia Pacific (APAC) and The Americas – Sumitomo takes the number one spot in Japan (the Japanese region is broken out from the APAC data as its own separate region in all our industrial research).
Heavy-duty industrial gearboxes
A look at the heavy-duty industrial gearboxes market shows Flender's big strength: they take a 26 percent market share in the $3.2bn heavy-duty industrial gearbox segment. This is more than double SEW's 12 percent share, and nearly six times the share of the joint third place companies: Sumitomo and South Korea's Hyosung Heavy Industries – which both sit at 4.5 percent.
Both SEW and Flender once again lead in all global regions except Japan where Sumitomo holds nearly a quarter of the market. Although Flender and Hitachi also hold double-digit market shares in Japan – which is interesting as the country is traditionally a very tough market for non-Japanese engineering companies. Chinese suppliers such as Chongqing Gearbox and Taixing Reducer both also do well in this segment and, while Chinese gearbox companies currently do most of their business domestically, they were starting to appear at international tradeshows prior to COVID-19. A major Chinese push into international markets for heavy-duty industrial gearboxes seems likely in the next five years.
Planetary geared motors / solo gearboxes
The planetary geared motors / solo gearbox segment stands out from the wider geared motors and industrial gears market because it is much more fragmented. While there is still a market leader operating at a double-digit market share (Bonfiglioli, at 13.5 percent), this represents a far smaller share for the leading company than in the other previously discussed sectors. Numbers two and three are Dana Brevini at 11 percent and Flender at 9 percent but, beyond this, there are a total of 15 vendors each with a share of between 2 and 4.5 percent, thus representing a significantly more diverse market in the planetary geared motors / solo gearboxes space.
The regional picture too in this segment stands out, with separate market leaders in every area:
EMEA – Bonfiglioli
Americas – Dana Brevini
APAC – NGC Group
Japan – Mitsui Miike (where it has nearly 50 percent of the local in-country market)