High Viscosity Cooked Starch No Problem for MasoSine Pump
Switching from progressive cavity (PC) pumps to a MasoSine pump from Watson-Marlow Fluid Technology Group has overcome a long-standing issue for a leading paper mill based in South Africa – that of viscosity.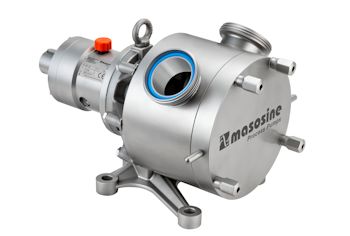 MasoSine pump (Image: Watson-Marlow Fluid Technology Group)
The cooked starch used to gloss paper at the mill offers viscosity of 15,000 cP at 90°C. Adding to the challenge, the starch tends to crystalise when it comes into contact with the atmosphere or if the temperature drops below 30°C.
The requirement at the paper mill is to pump the starch (both industrial and food quality types, depending on the application) from a boiler tank to the paper machine, where it is sprayed on to the paper via nozzles. As a result, consistent and reliable pumping at 15,000 l/h is paramount.
Around two years ago, the mill replaced its existing PC pumps with a MasoSine SPS250 sine pump, and it has been running successfully ever since.
Highly efficient
In the case of highly viscous products, MasoSine pumps are particularly impressive because there is very little internal friction and minimal fluid deformation, making them more efficient than rotary pump principles. Excellent power density is another factor that makes sine pumps ideal for the transport of viscous fluid. Therefore the MasoSine pumps usually require less electrical power for the same application especially with high viscous products. This results in the usage of a smaller motor than other pump principles which leads to less energy consumption and reduction of the carbon footprint within the pumping process.
Aside from its viscous product handling capabilities, the paper mill also reports that it has witnessed a "remarkable reduction in suction blockages" thanks to the impressive suction attributes of the MasoSine SPS250. Furthermore, the sine pump has a much lower pulsation than the PC pump, which means improved starch quality due to the gentle handling action.
Further orders
The paper mill is so pleased that it is now looking at installing MasoSine pumps at other plants moving forward. The mill is part of a group that has paper and pulp manufacturing operations on three continents.