Grupo Mexico Opens Mining Industry Door for Thordon Bearings
Global demand for raw materials is opening the door to a new market for Thordon Bearings, with one of the world's largest mining companies, Grupo México, using the Canadian company's grease-free and self-lubricating bearings in a myriad of pump and machinery applications.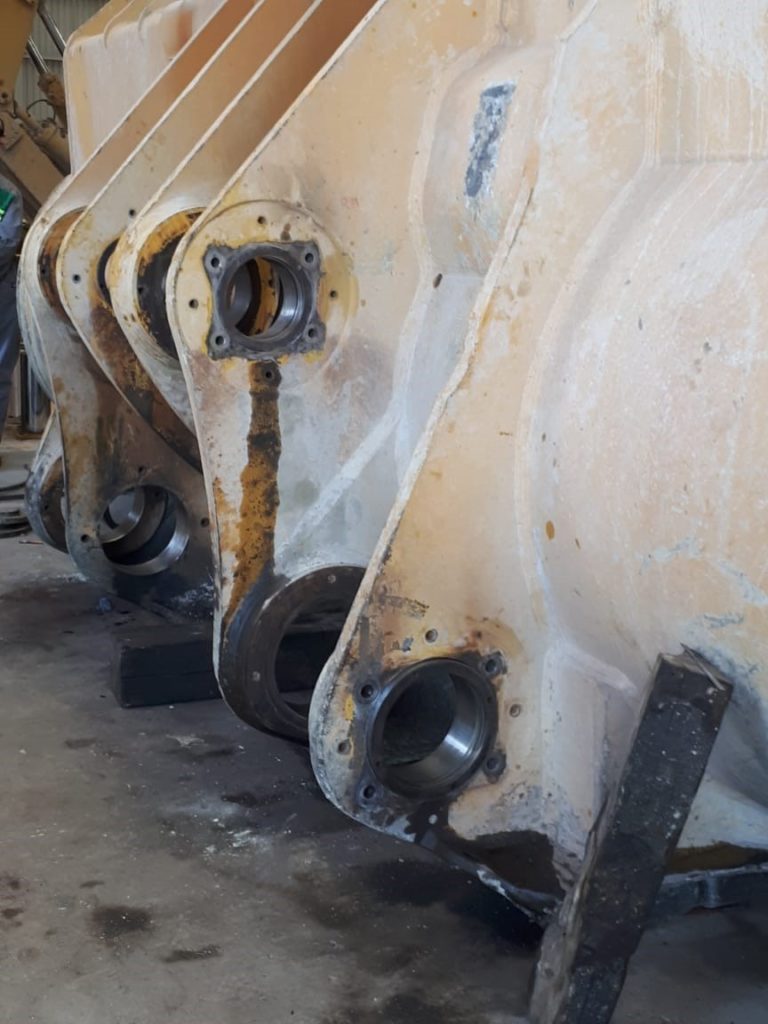 Komatsu 600 series Front End Loader in for maintenance where Thordon's ThorPlas-Blue bearings will be installed. (Image source: Thordon Bearings Inc.)
Since 2014, when Thordon's Mexico-based distributor TZ Industrias first supplied and retrofitted ThorPlas-Blue bearings to vertical turbine pumps operating at its copper and ore mines in Sonora and Nacozari, Grupo México has continued to specify Thordon solutions for other equipment, including heavy industrial vehicles.
"The ThorPlas-Blue bearings we retrofitted in 2014 have lasted significantly longer than the Ultra-High Molecular Weight Polyethylene (UHMPE) pump bearings they replaced, leading to a number of new bearing orders," said Arturo Selvas, Director of TZ Industrias.
"These pumps process a mix of water and traces of sulfuric acid, which is more demanding than other applications that deal only with only water and sand, so they needed a tougher, longer-lasting, more robust solution. The original bearings were costly and difficult to replace, requiring regular greasing, but we found that the ThorPlas-Blue material possesses unique properties capable of withstanding the corrosive effects of sulfuric acid, and no grease requirements," said Selvas.
TZ Industrias' initial scope of supply was for approximately two metres (6.6 feet) of ThorPlas-Blue bearings machined to fit pump bearings with outside diameters of 90mm (3.54in) and 50mm (1.97in). A total of 54 pumps operating at the Buena Vista del Cobre and Operadora De Minas De Nacozari mines were replaced, with TZ Industrias expected to retrofit a further 189 pumps in the coming months.
Given the performance of the ThorPlas-Blue bearings in vertical pumps, however, Grupo México – the world's fourth largest copper producer – specified the material for retrofitting the grab/bowl bearings of two different Komatsu Front End Loaders.
In 2019, TZ Industrias supplied and installed thirty-three 314mm (12.36in) diameter and eighteen 116mm (4.57in) diameter ThorPlas-Blue bearings to Komatsu 600 series Front End Loaders.
A current project involves trialing Thordon's polymer bearing technology on a P&H 4100 series electric rope shovel with a capacity of 56.6 cubic metres (74 cubic yards).
Thordon Bearings' VP Business Development, Craig Carter, believes there is significant potential for Thordon's elastomeric polymer bearing products across the global mining industry, a relatively new market for the company.
"We are seeing excellent growth in several regions around the world. Certainly, the need for raw materials is growing and we see an opportunity to improve the maintainability and reliability of all manner of equipment common to mining operations," said Carter.
With no greasing requirement, the self-lubricating thermoplastic ThorPlas-Blue material provides long wear life, low friction, and high abrasion resistance. It is easy to install on site thanks to sizing flexibility and the impact-resilient material also features dry start-up capability. This means the bearings can operate in water and chemicals up to 80°C (176°F) and 110°C (230°F) dry and can withstand design pressures up to 45 MPa (6527 psi).
Other Mexican mines to operate pumps retrofitted with a Thordon bearing solution include Newmont Gold in Zacatecas, and the Peña Colorada Iron mine in Colima.