Grundfos Unveils Ultra-efficient Pump Motors
The company unveiled the first models of its new line of MGE and MLE motors – with integrated frequency converters up to and including 2.2 kW – at the ISH 2013 trade fair in Frankfurt.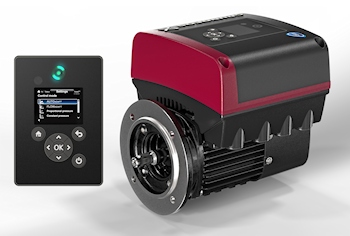 New line of MGE and MLE motors (Image: Grundfos)
The MGE/MLE motors operate above the new IE4 motor efficiency level as defined by the International Electrotechnical Commission (IEC) in the upcoming standard for rotating electrical machinery, IEC 60034-30-1 Ed.1.
"Customers will get a standard product that consumes less energy than ever seen before within these kinds of motors," says Preben Poulsen, Grundfos Program Manager of Motors & Drives.
New generation IE4
The MGE/MLE upgrades are the first in a new generation of IE4 asynchronous motors in Grundfos Blueflux pumps driven electronically via a built-in, "intelligent" frequency converter. The complete Grundfos Blueflux range goes up to 22 kW. Frequency converters automatically control motor speeds after actual demand, whereas standard pumps run at either full speed or off.
"We believe this is the most energy-efficient product in this market," says Preben Poulsen. "We are the only supplier with a motor that runs with efficiency above IE4 level including the losses in the frequency converter."
Up to 45 kilowatt
Meanwhile, Grundfos will also offer IE4 motors up to 45 kW on its industrial pump lines based on standard motor technology. The motors (2-pole from 3-45 kW and 3-pole from 2.2-37 kW) will be supplied by Siemens via a special agreement. Grundfos is the first company to be able to offer these motors with its products, says Preben Poulsen. Siemens is one of the world's most respected producers of standard motors.
These motors can be connected directly to the power supply or coupled to standard frequency converters.
A step ahead
Preben Poulsen says the upgrades are just the beginning of a long, coming program of improved motor technology that stays well ahead of global motor regulations.
The current legislative demand for motor efficiency in Europe is IE2. In 2015 and 2017, Europe will increase its legislative demand to IE3.
"As a part of our Grundfos Blueflux program, we already supply IE3 as a standard for most of our products," says Preben Poulsen. "We are ready to be one step above the next level. We want to be on the front edge of technology, along with the cutting edge of efficiency and life-cycle costs."
Facts about MGE/MLE pump motors
Intelligence: The advanced control results in a reactive pump system and advanced application related functions.
Immediately available with integrated frequency converters up to and including 2.2 kW for Grundfos pumplines: CRE, MTRE, CME, CMBE, Hydro MPC Booster. Others are planned to follow later this year.
Improved energy efficiency. Above IE4 even when including losses from the integrated frequency converter.
Built-in communication, with simple data transfer to a SCADA and BMS systems, and wirelessly with Grundfos GO.
Siemens IE4 motors based on standard motor technology will be available for up to 45 kW for bigger industrial pump lines.