Grundfos Supplier Award
On 6 June 2005 Grundfos awarded the prize for this year's best supplier, the Grundfos Supplier Award. The award was given to French company Nexans Winding Wires (former Alcatel Cable), a Grundfos supplier for more than 20 years.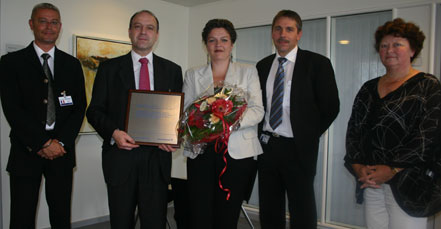 f.l.:Fabrice Weisslinger from Grundfos in France, Nexans CEO, Michel Mayoud, Nexans Manager for Customer Service Europe, Helene Noguera , Grundfos Senior Vice President, Lars Petersen and Grundfos Purchase Manager, Jytte Binder.
As a reason for selecting Nexans for the award Grundfos said that, together with Nexans, the pump company was able to build up a good, flexible relationship and communication, particularly due to the establishment of a stock hotel ensuring 100 percent delivery performance without time-consuming ordering and confirmation processes.
Nexans, specialised in cables and cable systems, is represented by companies in France, Italy, Germany and Portugal. The company is the only one in Europe with total production of cables from the copper casting to enamelled copper wires and varnishes. This ensures the company can guarantee safe delivery and at the same time be innovative.