Grundfos: New Circulator Pump Magna3
Magna3, Grundfos new circulator pump, is now launched – initially in Germany.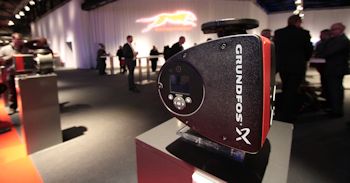 New Circulator Pump Magna3 (Image: Grundfos)
To enjoy the view or continue the climb… A question Grundfos has asked itself in connection with its circulator pumps. Grundfos chose the latter, making the August market launch of the Magna3 innovation a step towards a more potent portfolio.
A demanding market
Consequently, the obvious choice for a campaign with this level of ambition is to launch the new pumps on the German market: It s a world of strong players and highly specialised customers.
"The competition here is incredible. It s the perfect place to launch a product when you want to set the bar high. We want to do business in challenging surroundings, and if we can make it here, we ll make it anywhere", Sørensen argues.
The journey continues
Sørensen explains that it is perfectly natural for Grundfos to aim constantly to improve its products and services. To him, it is a part of the company DNA, and the Magna3 launch is simply the next stage of the journey. Equipped with the ground-breaking Autoadapt feature, the Magna3 is capable of detecting the specific consumption patterns of the household and limiting its operation to periods where hot water is needed, resulting in significant savings. Furthermore, the circulator pump has a brand new, wireless interface, Grundfos GO, which enables its owner to control it and retrieve pump data using their iPhone, iPad or similar device.