Grosvenor Pumps Introduces Second Diaphragm to its Pump Heads
Cornish pump manufacturer of positive displacement pumps introduces a second diaphragm to its pump heads to improve safety. The two diaphragm pump heads provide a manageable solution to industry by safely containing any leakages created by a ruptured primary diaphragm allowing fluid to escape.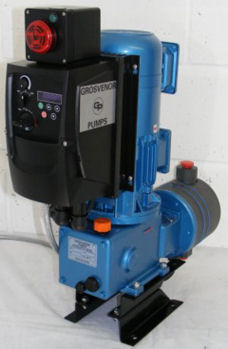 Grosvenor Pumps
Camborne based Grosvenor Pumps is introducing the two diaphragm pump heads in order to meet health and safety needs, in particular for one of our blue chip clients – a leading manufacturer of aircraft.
"As health and safety guidelines have become stricter, the second diaphragm pump head was introduced to solve the problems our client has" said Grosvenor Pumps Company Secretary, David Handley.
"The pump head consists of a primary diaphragm and secondary diaphragm. In the event of a rupture in the primary diaphragm, the chemical is contained within the secondary diaphragm, and the pump continues pumping normally."
"We have also fitted a rupture detection mechanism which will instantly activate audio and visual alarms if the primary diaphragm ruptures. In this particular instance, and to meet the needs of our client, we have integrated our new control system 'Varitronic' which allows the rupture detection mechanism to be completely integrated by shutting down the pump if a rupture occurs. The Varitronic also links pump delivery into process control."